I am currently a member of the Book of the Month club, which is actually a really wonderful subscription service. It gives you a choice of five brand new, fairly popular titles to choose from, with the option to add an addition 2 books per box at $9.99 a piece. For some, the housing brand new hardcover books may seem daunting but to be honest, it is so nice to have these popular titles on my shelf, ready for when I want to read them (then you can lend them out, and your friends will be so thankful they didn't have to wait on the super long library holds list).
Manhattan Beach by Jennifer Egan
 Manhattan Beach opens in Brooklyn during the Great Depression. Anna Kerrigan, nearly twelve years old, accompanies her father to the house of a man who, she gleans, is crucial to the survival of her father and her family. Anna observes the uniformed servants, the lavishing of toys on the children, and some secret pact between her father and Dexter Styles.
Mesmerizing, hauntingly beautiful, with the pace and atmosphere of a noir thriller and a wealth of detail about organized crime, the merchant marine and the clash of classes in New York, Egan's first historical novel is a masterpiece, a deft, startling, intimate exploration of a trans-formative moment in the lives of women and men, America, and the world.  (courtesy of Goodreads)
This book takes place in Brooklyn during the Great Depression. Nostalgia for my home (New York) and interest in the Great Depression and American history certainly makes this choice a no-brainer. I actually had this on my To Read shelf before the October books were revealed for BOTM, so it was a pleasant surprise to see it on the list.
Turtles All the Way Down by John Green
Sixteen-year-old Aza never intended to pursue the mystery of fugitive billionaire Russell Pickett, but there's a hundred-thousand-dollar reward at stake and her Best and Most Fearless Friend, Daisy, is eager to investigate. So together, they navigate the short distance and broad divides that separate them from Russell Pickett's son, Davis.
In his long-awaited return, John Green, the acclaimed, award-winning author of Looking for Alaska and The Fault in Our Stars, shares Aza's story with shattering, unflinching clarity in this brilliant novel of love, resilience, and the power of lifelong friendship. (Courtesy of Goodreads)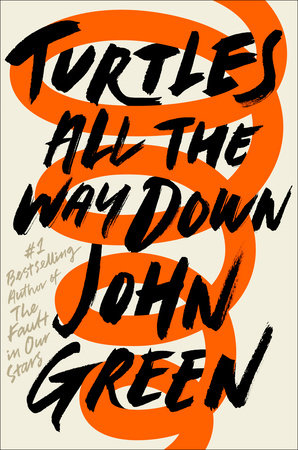 John Green is a modern legend for YA fiction. Two of his books have been translated onto the big screen ( Fault in Our Stars and Paper Towns) so naturally, his absence has been noticed. This is his first book since the Fault in Our Stars, which was a major hit, and the Goodreads Choice Winner for 2012. This books comes with high anticipation, so I am sure that it will find its way to the top of my YA list. It was (luckily) an option for an add on this month, to which I jumped on the opportunity. Expect a post about this in the near future- as I mentioned, it is high on my list for YA novels, so I am sure it will appear quickly.
So those were my BOTM choices for the month of October. While I may not have started either of them right away, I am extremely excited to have them on my shelf, waiting to be held.