This is now my (technically) 2nd book tag, and even though I was not technically tagged, I have decided that I would take things into my own hands to start it off. I LOVE Halloween, and I am obsessed with Hocus Pocus, so it seemed fitting to participate in this book tag, ON Halloween! The original creator of the tag is Never Not Reading, thanks for creating this fun tag!
The Sanderson Sisters – A Great Trilogy
OK, hear me out. The first two books in this series were amazing. And even though the last one was a huge bummer, especially the way it ended, it is still one of my favorites stories. It was so interesting and raw, and truth be told, I really liked the movie versions too. Honestly, I truly believe that the first two books outweigh the last one, and that is why I picked this series.
Winifred Sanderson – A book with a truly evil female villain
I actually have nothing for you guys on this one. I haven't read many books (that I can recall) where my skin crawled because of the evil of a female character. I mean I could be fairly cliche and Pick Umbridge from Harry Potter, but not only does that make me use Harry Potter twice in one tag, but again, it has been done.I have also seen a lot of mentions of the "Evil Queen" from Snow White and her various spin-offs/adaptions. So for now I will say this specific tag has me beat.
Sarah Sanderson – A book that uncannily attracts children
 I may never understand why, but this series has been read by EVERYONE. Don't get me wrong, it is cute and if it gets kids to read, then I am all for it!
Mary Sanderson – A book that's just plain silly
Not only are the drawings super basic and silly, but the content of this book is just crazy. It was cool that she did a memoir as a graphic novel-ish book, which made it super easy to get through and finish. I haven't read her second one yet, but I have to say, I did very much enjoy this book (silly as it may be). It was still somewhat relate-able, which is important for a lot of people right now.
Max – A book that is trying really hard to be cool, but doesn't always succeed
 I just really did not like this at all. Maybe I missed the underlying meaning behind it, or something but I did not understand or enjoy this at all. It felt like the characters were trying too hard to be relevant or understandable, which left me unamused and desperate to finish. I know a movie was made, based off this, but I have not seen it. I looked at some photos from it though, and it looked like maybe I might enjoy it a little better than I enjoyed the graphic novel version.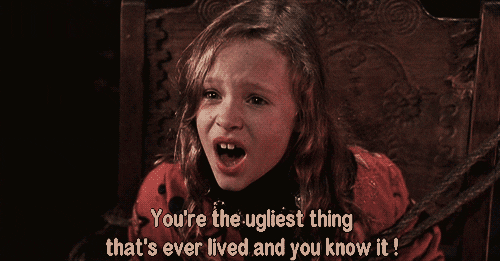 Dani – A book that isn't afraid to tell it like it is
 I have to say I am really surprised that I haven't seen this book for this heading in more tags. I obviously agree with the popular choice for this heading, The Hate U Give by Angie Thomas, but settled on this one for a number of reasons. While I did not enjoy the book all that much, it still have readers a unique experience. The ability to be inside the head of someone who suffers from a mental illness. It was told in such a beautiful and tasteful way that it was hard for me not to pick this book for this particular tag.
Binx – A book series that just won't die
 I remember even when I was young that Goosebumps was popular. Here we are 15 ish years later and it is still flying off the shelves, still relevant in children's literature. I think that as long as kids are interested in spooky stories (that maybe are not THAT spooky) Goosebumps will be alive and well. Will tons of variations and sub-series, it could take you an entire childhood to read through everything by R.L. Stine.
Ice – A book with a character that's dumb as a rock
 If I ever read a more dense cast of characters, I wouldn't be able to function. I mean, if you have ever read the famous play, and my guess is that you have, you know exactly what I am talking about. Actually, A Bookish Human made some really great points on a blog she posted a little while back. You can check that out for more of my feelings on this garbage "love story."
The Black Flame Candle – A book or series you wish you could resurrect
 Sorry not sorry but I will always love (and buy) ANYTHING Harry Potter. I have always thought it would be SO COOL if J.K. would write prequels. I would love to read about James and Sirius, Dumbledore and McGonagall, etc. Speaking of, I always thought it would be cool if she actually wrote Rita Skeeter's book about Dumbledore.. but that may just be me. Regardless, if it takes place in the Potter universe, I am a fan.
Headless Billy Butcherson – A book that's not so bad as people make it out to be
 It is not as nerdy as some may assume, and it definitely much more entertaining than originally thought. I am actually really excited to see how the movie comes out, but (as with any book you really enjoy) worry at the same time that it will ruin a good thing. There are some "geek" heavy portions of the book, which I may or may not have glazed over, but concept, plot and characters were interesting on their own.
Spell Book- A Book with a mind of its own
 You  have to be either really into the story, or really open-minded to get behind some of the plot in this book. Don't get me wrong, I very much enjoyed it. But it does take a little bit, once things start unraveling, to accept it for what it is.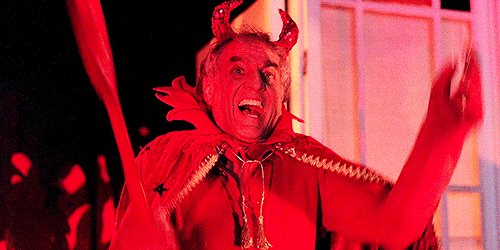 Garry Marshall- A book with a cameo
(I actually had no idea who this character was until I Googled him)
I am not sure I completely understand what the heading actually means when they say a "cameo" but I am going to interpret it as such. A common piece among Elin Hilderbrand's books is that her characters all live on the same small island (or rather, the books take place there). I have not read many of her books, so I don't know if characters overlap, but it is common among most of her books. The same can be said about Nicholas Sparks (that they all take place in NC, or that almost all of them have a character who was in/is in the military). I am not sure that this fits this heading but that is what I am posting for it.