I saw, and started this "tag" yesterday. It was so much fun, but awfully long,  so I broke it up into two posts. This is Day 2.
Kristin Kraves Books did this tag, which she saw on booktube (Emily Fox) and it looked like some serious fun! I just HAD to try it out, especially with the end of the year coming up. This actually might be a fun tag to do with all your reads at the end of the year (for me; for all you speed readers, this might be fun every quarter of the year, just to really get an idea of how you felt so far). So THANKS Kristin, for yet another distraction :]
For this tag I will be using books that I have read in 2017.
THE RULES:
Randomly choose 3 books
For each group, decide which book to burn, which one to rewrite, and which to reread (like Marry, Boff, Kill).
Repeat until you completed three rounds (or six) (or however many you want to do).
Round One, Day 2;
Reread: Lauren Graham is just adorable. She will always only be Lorelei to me, but that is completely okay. Talking as Fast as I Can just felt like an extension of Lorelei, or a far fetched couple of stories she would tell to anyone who was listening. I went through this pretty quickly and wouldn't mind re-reading it, but I suppose that is why I bought it instead of just borrowing it at the library.
Rewrite: I wanted The Disreputable History of Frankie Landau-Banks to be better than it was. I LOVE the idea of a woman infiltrating and fooling a "gentlemen's club" but I felt like it could have been done a little better. The foundation and the bones of a good story are there, if it were tweaked a bit, it would be perfect.
Burn: The Couple Next Door was not all that interesting to me. I read it pretty quickly, but did not feel all that attached or interested in any of the characters.
Round Two;
Reread: This is a hard one! I actually liked all three of these. If I had to choose, I would probably pick The Sun is Also a Star. I liked this book, much more that her other one. It had its flaws but I don't think I would mind rereading this.
Rewrite: I really liked When You Reach Me. I might want to change just a couple of things but overall, I think this was a pretty interesting book.
Burn: Aw man, I really liked Graveyard Shakes. I actually just finished it yesterday. I suppose it could just be one of those books that you pick up, like and then don't read again. This was a good set of three. Hard to pick between them.
Round Three;
Reread: I really loved The Miraculous Journey of Edward Tulane. I can see myself reading this aloud to my kids, and that is a huge drive to keep it in this spot.
Rewrite: AHHHH I really loved Behind Her Eyes. I thought it was fairly original, and interesting. Maybe I would change just a couple of things? But otherwise that is right up there with some of my favorites for the year. Just a really great suspense/thriller to run alongside The Girl on the Train and others.
Burn: This makes me sad. 1984 is obviously a classic. Granted, I skipped over a bit of this book, and found some parts to be dreadfully boring. BUT it is a classic for a reason, and in current times, it certainly leaves you feeling somewhat eerie. Another set where it was just too hard to decide among the three.
Round Four;
Reread: I Work at a Public Library gives me life. It is literally things that I deal with on a daily basis that many people do not understand or expect. I would love to own a copy of this, just as a reminder of why I do what I do or even just to make me laugh at the ridiculous situations I am faced with daily.
Rewrite: I don't know that I would actually rewrite March Book 1, but, I think I would really enjoy to see this turned into a young adult novel series. It could include the art from the graphic novels, but accompany it with a little more depth. I would totally read that.
Burn: Again, Nerd Camp may not deserve to "burn" per say, but I don't think I will be revisiting this at any time. It was a fluffy read that served the purpose of trying out my library's ebook collection. Cute but I can live without it.
Round Five;
Reread: I love a good historical fiction. Genevieve's War is a newer children's historical fiction that I actually really enjoyed. It is a quick read, and I recommend it to anyone in a slump, that needs something quick and easy, but with some substance.
Rewrite: For the most part, I also really enjoyed Forever or a Long Long Time. There were parts I might alter a little bit, but otherwise this book was another pretty good, newer fiction in children's literature.
Burn: HATE. I really really disliked this book. I know that Ghost World has a movie counterpart that is supposed to be pretty decent but I just really did not like that characters or the story behind this graphic novel. Not something I would revisit (though I MAY be swayed into trying out the movie).
Round Six;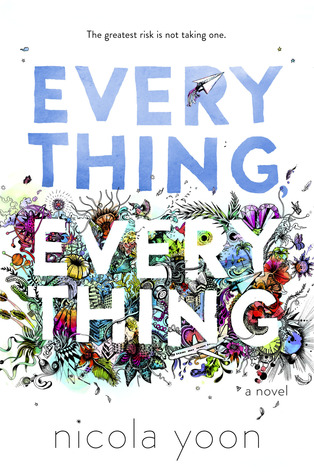 Reread: I was so anxious to read Into the Water, that I feel as if I may have missed a lot of the story. I think I would like to revisit it, now that the hype has died down, and really get lost within this little eerie town.
Rewrite: I don't know, I think it would be awesome to read Pax as a graphic novel (drawn by Jon Klassen obviously). It was such a great book, but I definitely would have liked to have more illustrations by the wonderful Klassen, I think it would have really projected this story to another level.
I also think that with a little altering Perfect Little World would have fulfilled my expectations. The idea itself is extremely interesting. It is what drew into reading it so quickly. But I certainly would look into fleshing it out a little differently, in order to better explore this unique plot.
Burn: Sorry but I really did not like Everything Everything. I was completely shocked by the ending, but something about this book did not sit well with me. I think that Yoon did a much better job with The Sun is Also a Star. But that is just my unpopular opinion
And that's all she wrote! I know it is only November, and I am sure that I will finish several more books before the end of the year, but I can save those for my end of the year wrap up. And anyway, this was too fun to hold back until the end of the year. Although, looking back, it was a fairly long post, I could have broken it up better but alas, you live and learn.
Have you read any of these books? What do you think of my choices? Let me know what you think in the comments!