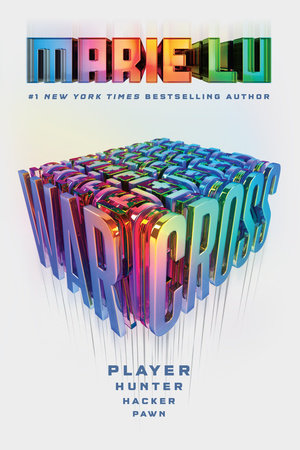 Marie Lu (2017)
For the millions who log in every day, Warcross isn't just a game—it's a way of life. The obsession started ten years ago and its fan base now spans the globe, some eager to escape from reality and others hoping to make a profit. Struggling to make ends meet, teenage hacker Emika Chen works as a bounty hunter, tracking down players who bet on the game illegally. But the bounty hunting world is a competitive one, and survival has not been easy. Needing to make some quick cash, Emika takes a risk and hacks into the opening game of the international Warcross Championships—only to accidentally glitch herself into the action and become an overnight sensation.
Convinced she's going to be arrested, Emika is shocked when instead she gets a call from the game's creator, the elusive young billionaire Hideo Tanaka, with an irresistible offer. He needs a spy on the inside of this year's tournament in order to uncover a security problem . . . and he wants Emika for the job. With no time to lose, Emika's whisked off to Tokyo and thrust into a world of fame and fortune that she's only dreamed of. But soon her investigation uncovers a sinister plot, with major consequences for the entire Warcross empire.
(via Goodreads)
I want to start off by saying that it pains me to see that I have not done one of these (book talks/reviews) in almost a month! A lot of that has to do with me trying to figure out how I want to present these from now on, but that is for another time and place- for now, I will continue with what I have been doing so far.
I have to say, going into this book, I had a lot of expectations. Not only did I know that it is a favorite among the book blogging community in general, but when I picked it up for the first time, it reminded me very much of Ready Player One. I loved that book (Ready Player One) so I was skeptical about whether Marie Lu could do something similar, and still make it her own (while also holding my attention). I didn't intend to like Ready Player One to start with, so I was unsure how to feel when approaching this one.
Starting out, Warcross and Ready Player One had a lot of similarities. They both starred a "hard on their luck" kid with virtually no family, living in the ghetto of their respective worlds. They both lived in a world where a virtual reality game dominated daily life, so much so that reality and game blended into a new kind of normal. They both use run down, outdated equipment to access this game but are super smart/skilled in this game but have no real means of showing off on the grand scale. It took me about a quarter of the way through Warcross to finally start feeling like this was it's own story. And when that happened, the story itself really took off.
Characters: I am really intrigued by Zero. I kinda knew for a while who it would end up being (at least I had my guesses), but I am completely at a loss for words as to his motive. I get the whole good vs. evil idea, but (without giving too much away) why does Zero stay hidden/anonymous? If I were him, I would have gone about my plan a way different way, perhaps a bit more direct? I don't want to give away too much so I will leave it at that, but I would really love to chat with you guys about what you think of Zero and his motives.
I am also extremely curious about Emika's mother. For the beginning half of the book, I was under the impression that she was dead (maybe I missed some context clues or something) but when it was revealed that she simply just left the family, it automatically makes me think that she will have a bigger role sometime later on in the series. I cannot possibly see a way in which they mention that she is still alive and just you know, around, and not reach out to Emika in some way. I mean it's classic, the struggle between an estranged mother and daughter. Adds a bit of drama that has nothing to do with the game.
As for Hideo, I am really disappointed with how Marie Lu had this character develop through the book. I was completely on board the whole story, until the very end. To me, while I can see the reasoning and what may lead to his ending, I still don't think it fits what we have already established for this character. I don't think the ending fits his development arc. But that is just a personal opinion. I am interested to see how he continues to struggle in the next installment of the series.
Finally, there is a character at the very end who is in custody and being interrogated by authorities. I will refrain from giving away that character's identity, but I am extremely curious what happens to them. The last thing said about them was that they were being interrogated, nothing more. So I am curious to see if they come up again in the next book, and what exactly their part is in the rest of the series.
But what about Emika? Well, she's your typical main character! I didn't hate her, but I didn't exactly love her either. I can relate to the fact that she was super private and didn't exactly know how to participate on a team, but she wasn't really my favorite character, though I do love the parts with her and Hideo.
Setting: I wasn't super impressed by the concept of the game, especially when I already have Ernest Cline's virtual world fresh in my mind. To me, his world was much more believable as the virtual world we just might see in the near future, as opposed to Marie Lu's. I felt like I didn't know much about the actual game of Warcross before the championship games, and even then, I didn't really understand the whole concept behind it. I am hoping that more of that world gets hashed out and brought to light in the next book in the series.
All in all, I didn't hate this book, but I definitely did not LOVE it like I wanted to. I could definitely seeing wanting to own the whole series at some point. It did keep me interested throughout, and generally, is an interesting story , not to mention the cover art on Warcross is just beautiful. I don't think it will be in my top books of the year, but it is way too early to tell.
What did you guys think of Warcross (I know most of you have read it)? Lets chat in the comments :]
 On Deck: 
The Stars Beneath Our Feet by David Barclay Moore  
Aggravated Momentum by Didi Oviatt (eARC)