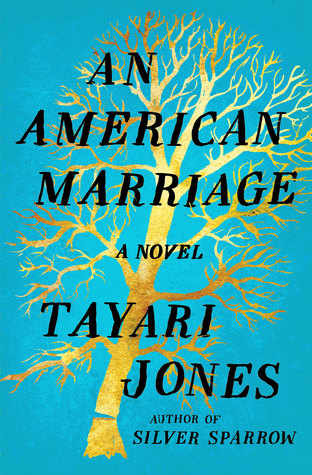 (Tayari Jones, 2018)
Newlyweds Celestial and Roy are the embodiment of both the American Dream and the New South. He is a young executive, and she is an artist on the brink of an exciting career. But as they settle into the routine of their life together, they are ripped apart by circumstances neither could have imagined. Roy is arrested and sentenced to twelve years for a crime Celestial knows he didn't commit. Though fiercely independent, Celestial finds herself bereft and unmoored, taking comfort in Andre, her childhood friend, and best man at their wedding. As Roy's time in prison passes, she is unable to hold on to the love that has been her center. After five years, Roy's conviction is suddenly overturned, and he returns to Atlanta ready to resume their life together.
(via Goodreads)
What I Liked
Concept

I liked the idea behind the story. I thought that it was a unique way to look into a relationship between husband and wife (and others) under such stressful circumstances.

Cover

I feel like I always comment on the covers but I really enjoyed this one. It was subtle, and I really love the contrast between the blue and the gold.

Realistic Fiction

I liked that this told a story, a story that could, and most likely has played out this way. It was honest; people like Roy Jr. are targeted everyday, especially in the south, and wrongfully imprisoned for many more years than they ever deserved. And while you know that he was innocent, five years is a long time to be apart, and people tend to move on. They ended, though in its own way "ties up nicely" it also ties up realistically.  I appreciate that in books like these.
What I Disliked
Characters

While I understand that the circumstances in which these characters live in are difficult, I felt it was rather hard to "root" for any of the main characters. Instead I found love and understanding in the side characters, particularly Roy's parents.

Letters

In the beginning of the book, Roy and Celestial exchange letters while he is in prison. I kinda wish that they were dated because it was difficult to determine how much time had passed throughout each correspondence. When it was mentioned that he stayed in prison for five years, I was shocked because there was no way of really telling how much time had passed.

The Relationship between Roy Jr. and Celestial

To me, this relationship was not nearly as strong as I had assumed going into it. Of course it is common knowledge that couples argue and disagree, but it just felt like these two were never meant for each other from the very beginning. Which of course in turn made it difficult to root for once Roy Jr. does finally get out.
Final Thoughts
I read the majority of An American Marriage in a day, so it was well written and gripping enough to push through, but truthfully I was not as impressed as I thought I would be. I am not sure what exactly I was expected from it, but all I can tell you is that I wanted more. More backstory, more time for character development. I feel as though perhaps the characters did not fully develop before my eyes. I have read a number of reviews for this book since completing it, and it appears that I am in the minority in my thinking, which is fine. Maybe it just wasn't the right time for me to read it. It wasn't terrible, but it wasn't my favorite. Regardless, I think that I would like to revisit this at another time and see if my opinion changes.
 On Deck: 
Wishtree by Katherine Applegate