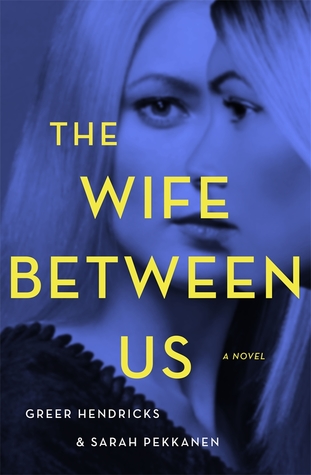 (Greer Hendricks & Sarah Pekkanen, 2018)
A novel of suspense that explores the complexities of marriage and the dangerous truths we ignore in the name of love.
When you read this book, you will make many assumptions.
You will assume you are reading about a jealous wife and her obsession with her replacement.
You will assume you are reading about a woman about to enter a new marriage with the man she loves.
You will assume the first wife was a disaster and that the husband was well rid of her.
You will assume you know the motives, the history, the anatomy of the relationships.
Assume nothing.
Discover the next blockbuster novel of suspense, and get ready for the read of your life.
(via Goodreads)
What I Liked
Lived up to the hype

I liked that this was described as super twisty, and just about everyone I knew who read it, loved it. I think that is why it took me so long to actually get around to it, because I was afraid the hype would kill it, but I was wrong! It was just as twisty as everyone said it was, and it was done so in a tasteful and believable way, which made it that much more interesting and enjoyable to read.

Creepy

I felt that this book had just the right amount of "creepy" feelings. They weren't paranormal in nature, which would not have fit with this story, so I am glad that they did it the way that they did, particularly the ending.

Just Predictable Enough

Again, this had its fair share of twists and turns, some of which I did not see coming what so ever, but the main portion of the story, particularly with Richard's character, was typical enough that you assumed you knew what was going on, and were anticipating the "reveal." I am purposely being vague because I don't want to spoil it for anyone, but I am happy to further discuss it with anyone who is curious what I mean.

Characters

I felt like the characters were all written in a very crafty way. They felt completely whole,and real, which makes you feel like you are chatting with a friend rather than reading a book.
What I Disliked
Personal Spacing

This is more a personal thing than one with the book, but I kind of wish that I was able to read this in one sitting. I think it would have been much more enjoyable that way. Instead I read it over a couple of weeks, with large gaps in between some portions so I don't think I got the full experience. But I feel this way about a lot of thrillers; if I don't read the book in its entirety, right away, I feel like some of the details are lost on me, and therefore don't have quite the same effect as it would have had I remembered the little details throughout.
Final Thoughts
Truthfully, I really enjoyed this book! I had been looking forward to it since late last year, and after hearing all the positive feedback, I really wanted to get into it. It did not take me that long to complete, the flow was good, and it was relatively easy to read, but work and family obligations got in the way of my reading so it got stretched out a bit further than what it normally would have taken me to finish. I can definitely see this being an enjoyable reread for me in the future, there are many pieces that I would like another look at as well. I hope that this duo have other tricks up their sleeves because I would love to read another one from them in the near future.
 On Deck:
Aru Shah and the End of Time by Roshani Chokshi