Hey ya'll! I am coming at ya with a brand new "weekly" meme thanks to my friend Joe over @ Storeys of Stories! I really liked this idea because it is less commitment on my part (I don't have to do it EVERY week, only when I start a new book).
Straight from the horse's mouth (if you will):
First Impression Friday will be a meme where you talk about a book that you JUST STARTED! Maybe you're only a chapter or two in, maybe a little farther.  Based on this sampling of your current read, give a few impressions and predict what you'll think by the end.  Did you think you'd love it and ended up hating it? Or did you think you'd hate it and wound up loving it? Or were you exactly right? I think what will really make this meme a lot of fun, is linking back to it from your review to say, "Look at how wrong I was!" OR "See? I knew it all along!"
This week I started:
Not That I Could Tell by Jessica Strawser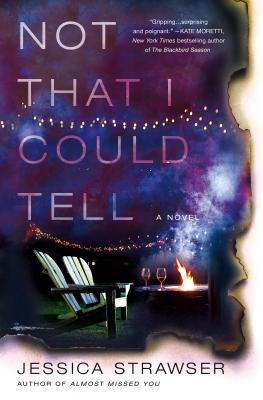 I literally JUST picked this book up. Funny story, I had this post featuring Fangirl all ready to go, and then I finished the book…Wednesday night… so clearly I had to pick something different.
My BOTM shelf is getting too crowded so I decided that I should try to clear some of it out before May's selection(s) come in. This one has just been calling to me since I selected it a few months ago. Truthfully, after the fail that was Truly Madly Guilty, and the AMAZINGNESS that was The Wife Between Us, I am unsure how this one will fall. The description sounds A LOT like Truly Madly Guilty (everything that I liked about it, or thought I was going to like) so I am intrigued. I am only a couple pages into the book so far though, so I can't say for sure what I think will happen. I am going to predict a 3/5 stars for now.
If you would like to participate in this meme, please make sure to link back to Joe, since he is the creator :]