Alrighty then! So I was tagged by the creator of this wonderfully out there tag, Mandy @Book Princess Reviews. I have to admit, I never watched the X-Files but this tag looked super fun and Mandy was soooo excited about it that I just had to try it out!
The Rules:

Take out your fake FBI badge and answer the questions
You can link back to Book Princess Reviews (aka pingback to this post) if you wish, so I can fangirl all over your posts
Keep the alien love alive possibly and tag any and all X-Files fans you know…or just other people – either or?
Fox Mulder

Fox is known to have some "out there" beliefs, so name a book that you believe in despite everyone/ratings/reviews tell you perhaps isn't that great
A lot of people did not like this book! I don't see myself ever re-reading it, because I already know what happens, BUT I really did enjoy the book when I originally read it. And it is one that I still have no problem recommending.
Dana Scully

Just like the resident FBI skeptic, name a book that you're skeptical of (because of hype, sketchy cover, etc.)
I happen to really love the covers, but I just can't wrap my head around this series. I highly doubt that I will ever read them, and if I do, I REALLY doubt that I will like them. The covers make me want to pick it up (as well as the hype and chatter around them) but the synopsis really just sends me screaming in the other direction…sorry.
I Want to Believe

What book do you believe, just like the  famous tagline, will be your next 5 star/crown read off of your TBR?
This is a good one. I have to say, probably Children of Blood and Bone! EVERY SINGLE PERSON I know who has picked this up has completely fell in love. I really really look forward to this, and hope it is as good as everyone says it is!
Aliens
Name a book that on your TBR that is from a genre that seems out from another book world to you but still sounds super good
I am really not into the whole Sci-fy thing, but this just sounds soo good so I've kept it on my shelf for the last few years… I hope to eventually get to it.
The Lone Gunmen

Name a book that comes along with an epic team just like these three hacking men
I mean is there a more epic team? (the answer is NO)
Walter Skinner
Skinner is the boss that forever teeters on the edge of good and evil, so name a conflicting character for you (whether the character is just conflicted or you're conflicted about your feelings for them)
ooooh boy, two Harry Potter answers so far. But seriously. I keep going back and forth about Snape (and Dumbledore for that matter). I felt bad for him, that James and Sirius were such bullies and that they essentially took away the only friend (it seemed like) he had, BUT I don't think that his never ending love for Lily was enough to make-up for all that he has done. I still don't think what he did was all that heroic. I get that he was trying to stay in the good graces of Lord Voldemort, but I just can't imagine a good person, allowing monsters into Hogwarts, and literally harming it's students. He also didn't do a really great job watching over Lily's son.
Cancer Man/ Cigarette Smoking Man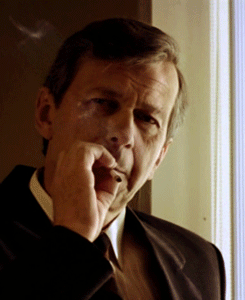 Name the worst book villain you can think of just like this smoking fiend who refuses to stay dead
The police in Tyler Johnson was Here. This is a bit of a stretch. but I didn't want to use another Harry Potter reference for this prompt. The police are absolutely disgusting and literally kept me gasping in horror with every interaction with the characters in this book. I know that there are police who are like that for real, but I just don't want to believe that it is true. Police are supposed to represent hope, and security, and in this novel (in real life, and in other books similar to this one), they make you afraid, which is a terrible terrible thing. Who do you turn to, if you cannot ask for police assistance?
This was fun! I am going to tag only a handful of people for this one, but if you are not tagged, and want to be, feel free to give this one a go!
Joe @ Storeys of Stories
Nina @ The Cozy Pages
Sophie @ Beware of the Reader
What do you think? What are some of your answers to this? Let's discuss in the comments below!