Hey ya'll! I am coming at ya with a brand new "weekly" meme thanks to my friend Joe over @ Storeys of Stories! I really liked this idea because it is less commitment on my part (I don't have to do it EVERY week, only when I start a new book).
Straight from the horse's mouth (if you will):
First Impression Friday will be a meme where you talk about a book that you JUST STARTED! Maybe you're only a chapter or two in, maybe a little farther.  Based on this sampling of your current read, give a few impressions and predict what you'll think by the end.  Did you think you'd love it and ended up hating it? Or did you think you'd hate it and wound up loving it? Or were you exactly right? I think what will really make this meme a lot of fun, is linking back to it from your review to say, "Look at how wrong I was!" OR "See? I knew it all along!"
This week I started:
Emergency Contact by Mary H.K. Choi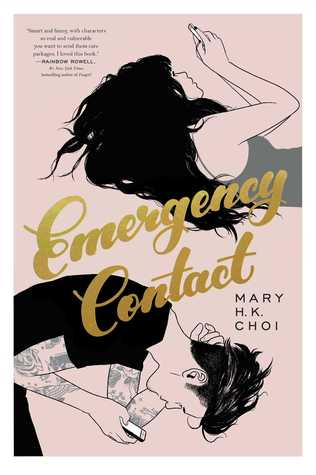 I am actually about halfway through this book right now, and I am really enjoying it so far! It is a story about two people who "meet awkwardly" and end up being each other's texting buddy, or "Emergency Contact." They don't hang out, but they talk all day, every day. This is actually a concept that is extremely believable, especially in today's digital age. I have been dying to get to it since ordering it online, and am excited to see it through to the end. It is told from two views, Penny and Sam (our main characters) and includes some of their text messages. They have their own personal struggles going on throughout the book, which allows their text relationship to not take the complete center stage, but rather share it evenly. While I may not have believed their "meeting" to be as awkward as advertised, I am still hooked, and need to know what happens to these characters. I am predicting either a 4 or 5 star rating for this one (leaning more towards 4).
If you would like to participate in this meme, please make sure to link back to Joe, since he is the creator :]