Hey ya'll! I am coming at ya with a brand new "weekly" meme thanks to my friend Joe over @ Storeys of Stories! I really liked this idea because it is less commitment on my part (I don't have to do it EVERY week, only when I start a new book).
Straight from the horse's mouth (if you will):
First Impression Friday will be a meme where you talk about a book that you JUST STARTED! Maybe you're only a chapter or two in, maybe a little farther.  Based on this sampling of your current read, give a few impressions and predict what you'll think by the end.  Did you think you'd love it and ended up hating it? Or did you think you'd hate it and wound up loving it? Or were you exactly right? I think what will really make this meme a lot of fun, is linking back to it from your review to say, "Look at how wrong I was!" OR "See? I knew it all along!"
This week I started:
Batman: Nightwalker by Marie Lu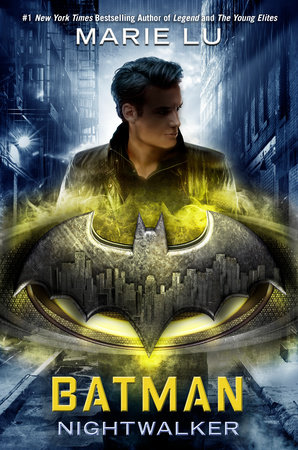 So, as many of you may recall, I started Dread Nation last week. Unfortunately, I was just not in the right mindset to get into that story so I put it down for now. I hope to revisit it another time. I did however pick this up in Dread Nation's absence. This book has been on my physical shelf since the beginning of the year, so it'll be nice to free up that space. I read Wonder Woman (who is by a different author- Leigh Bardugo) earlier this year and LOVED it. Seeing as I have tickets to meet Marie Lu at Book Con this weekend, and I have only read Warcross by her, I thought this might be a good book to pick up. I already have Catwoman on preorder, so I am obviously enjoying the series so far. Does anyone else have questions about Superman though? Wonder Woman, Batman and Catwoman are the only ones that ever get mentioned (and are going to be the only ones featured in the "boxed set" due to come out later this year) but supposedly, a Superman story is due to come out in 2019. It is slated to be written by Matt De La Pena, but no mention of this upcoming book is anywhere on his website..curious. I haven't read anything but picture books by that author so I am interested to see if Superman gets written.
Anyway, this is supposed to be about Batman, NOT Superman. I am a little under half way through as I am writing this actually, and I am really enjoying it. I like the characters a lot, and the story just pulls you along. Bruce comes off as a typical teenager, who has a knack for getting into all kinds of shenanigans. It actually kind of reminds me of Harry Potter right now. Good natured main character who's curiosity gets him in trouble (with questionable punishments)? Regardless, I like the slight nods toward familiar Batman story lines (his best friend being Harvey Dent, "a cop who remembers you as a little boy") but am thankful for a separate story from those.  I am predicting a 5 out of 5 star rating for this.
If you would like to participate in this meme, please make sure to link back to Joe, since he is the creator :]