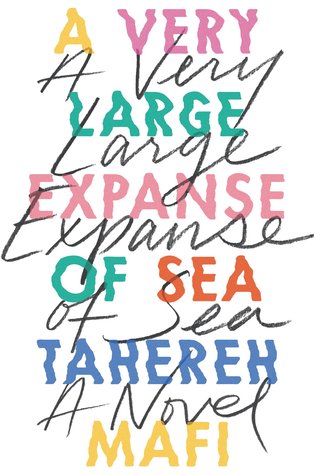 (Tahereh Mafi, 2018)
Expected Publication date: October 16, 2018
It's 2002, a year after 9/11. It's an extremely turbulent time politically, but especially so for someone like Shirin, a sixteen-year-old Muslim girl who's tired of being stereotyped.
Shirin is never surprised by how horrible people can be. She's tired of the rude stares, the degrading comments—even the physical violence—she endures as a result of her race, her religion, and the hijab she wears every day. So she's built up protective walls and refuses to let anyone close enough to hurt her. Instead, she drowns her frustrations in music and spends her afternoons break-dancing with her brother.
But then she meets Ocean James. He's the first person in forever who really seems to want to get to know Shirin. It terrifies her—they seem to come from two irreconcilable worlds—and Shirin has had her guard up for so long that she's not sure she'll ever be able to let it down.
(via Goodreads)
What I Liked
Unfamiliar Author

Much like Becky Albertalli and Adam Silvera (What If It's Us), I was unfamiliar with this already super popular author. In fact, I didn't even know about this book until after seeing it raved about by my favorite booktubers. Luckily for me, my library system also had reps at Book Expo and got a number of ARCs (this being one of them). What they did was create their own little library for librarians to check out ARCs in exchange for reviews. That is how I ended up with it in my hands. This is supposedly Mafi's first attempt at contemporary (after being super famous for her fantasy series, Shatter Me). It is always nice (for me) to go into these sorts of things cold. I enjoy reading popular authors for the first time, long after they have been famous for other things.

Own Voice

I told you, I am on a super Own Voice kick lately! This story is about a young Muslim girl growing up in a time after 9/11 and all the blind hatred and ignorance that surround someone who looks like Shirin in a time of fear. While the story is fictional, Mafi explains in an Author's Note at the very beginning that a lot of this book is based off of things that happened to her. I honestly have no idea how I am constantly surprised by how much hatred and ignorance are in the world we live in, but these stories (own voice) couldn't be more important. That is probably why I enjoy reading them so much, to be honest.

Characters

Mafi does a really great job creating vibrant, realistic characters that really pull you through the story. I don't think there was a character I didn't like in this book at some point or another. Ocean is obviously my favorite though with his determination and kindness toward Shirin. I loved how he helped pull her out of her shell, and show her that not all people are horrible. He was the beacon of hope throughout this story and I think Mafi did a great job with his character.

Short

This was a fast read for me! I was able to get into it pretty quickly, and ended up finishing it a little faster than I anticipated. It was only about 310 pages, and the chapters were only a few pages each, but I liked that. The characters really pull you through the story so when it ends you almost don't even realize that you had started at all.  The chapters being so short really encouraged me to read whenever I had a few minutes too. I am one of those people who hate leaving off in the middle of a chapter, so when I feel confident that I can finish one in a short sitting (between shifts, etc.) I end up reading the book a lot faster than others.
What I Disliked
Cover

Is it really terrible to say that I really dislike the final cover? It actually was just released shortly after I got my hands on the ARC so I don't have a copy with the final cover on it. Instead, my book looks like this:
No this is not a beautiful cover either, but I got really attached to the blue to be honest. I don't know. I kind of understand why it was designed the way it was, but it is definitely not my favorite at all.
Final Thoughts
I guess I liked this book more than I originally thought! I featured it in one of my First Impression Fridays, and predicted a 4 or 5 out of 5 stars, so I was basically right on the money ultimately ending up with a 4 out of 5 star rating. I really did like this book, but I don't know that I would pick up any of her other current books. The Shatter Me series just never sounded appealing to me, but if she cranks out any more contemporaries, I would be more than happy to try them out.
Own Voice stories are so important, I don't know how many more times I am going to say it. I honestly LOVE reading about other people's experiences, whether awful or not, and I really enjoyed how Mafi laid this story out. I have read now three (?) books about Muslim characters and truthfully have loved all three. I could totally get behind more of these types of characters in YA contemporary fiction though (two of the three books I've read were actually Middle Grade! You can see reviews for The Night Diary and Playing Atari with Saddam Hussein in a Mini Review).
What do you guys think? Does this sound like something you'd like to read? Have you read the Shatter Me series? Let's chat!
 On Deck:
Starry Eyes by Jenn Bennett