I think I suffered some FOMO from skipping June's box last month, because I added two books that I probably didn't need for the month of July. I really REALLY need to work on reading the BOTM books I currently still have unread before I can add any more, or at least think to unhaul them at some point.
The Last Time I Lied by Riley Sager
Two Truths and a Lie. The girls played it all the time in their tiny cabin at Camp Nightingale. Vivian, Natalie, Allison, and first-time camper Emma Davis, the youngest of the group. The games ended when Emma sleepily watched the others sneak out of the cabin in the dead of night. The last she–or anyone–saw of them was Vivian closing the cabin door behind her, hushing Emma with a finger pressed to her lips.
Now a rising star in the New York art scene, Emma turns her past into paintings–massive canvases filled with dark leaves and gnarled branches that cover ghostly shapes in white dresses. The paintings catch the attention of Francesca Harris-White, the socialite and wealthy owner of Camp Nightingale. When Francesca implores her to return to the newly reopened camp as a painting instructor, Emma sees an opportunity to try to find out what really happened to her friends.
Yet it's immediately clear that all is not right at Camp Nightingale. Already haunted by memories from fifteen years ago, Emma discovers a security camera pointed directly at her cabin, mounting mistrust from Francesca and, most disturbing of all, cryptic clues Vivian left behind about the camp's twisted origins. As she digs deeper, Emma finds herself sorting through lies from the past while facing threats from both man and nature in the present.
And the closer she gets to the truth about Camp Nightingale, the more she realizes it may come at a deadly price.
(via Goodreads)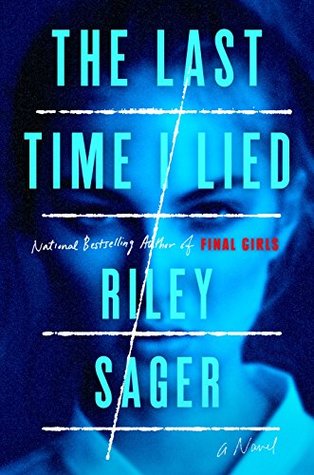 I know I know, I didn't like Final Girls, what business do I have trying this one out? It just sounded SO interesting, and truthfully, I didn't even realize it was by the same author until I had already shipped my BOTM box. Why not give her another shot? Worst case scenario, I know for certain that I don't like her books! Plus, who doesn't like a haunting camp story in the middle of summer?
Ghosted by Rosie Walsh
Seven perfect days. Then he disappeared. A love story with a secret at its heart.
When Sarah meets Eddie, they connect instantly and fall in love. To Sarah, it seems as though her life has finally begun. And it's mutual: It's as though Eddie has been waiting for her, too. Sarah has never been so certain of anything. So when Eddie leaves for a long-booked vacation and promises to call from the airport, she has no cause to doubt him. But he doesn't call.
Sarah's friends tell her to forget about him, but she can't. She knows something's happened–there must be an explanation.
Minutes, days, weeks go by as Sarah becomes increasingly worried. But then she discovers she's right. There is a reason for Eddie's disappearance, and it's the one thing they didn't share with each other: the truth.
(via Goodreads)
I'm going to be honest with you guys on this one. A major reason why I added this book to my box was because it was blurbed by Liane Moriarty. Truthfully though, I have no business reading this type of book. Unfortunately, I can be a very jealous person, and if I let my mind wander too much, all these crazy situations manifest in my head and get me into trouble. But this just sounds so modern and intriguing and if my girl Moriarty blurbed it, I gotta try it! Plus, the cover is just so pretty.
If I am being quite honest, I didn't need these books right now. What I really need to do is start working on my condensing and un-hauling and yet more and more books seem to find their way into my life…