As I have mentioned in the last several posts, my physical TBR is getting out of hand, and included in that is a very stuffed BOTM unread shelf. For this reason (and the fact that I had little interest in the choices for this month) I have decided to skip August's box.
For those who are still interested, here were the five choices for August 2018.
Sweet Little Lies by Caz Frear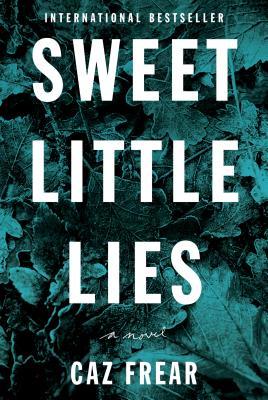 Twenty-six-year-old Cat Kinsella overcame a troubled childhood to become a Detective Constable with the Metropolitan Police Force, but she's never been able to banish her ghosts. When she's called to the scene of a murder in Islington, not far from the pub her estranged father still runs, she discovers that Alice Lapaine, a young housewife who didn't get out much, has been found strangled.
Cat and her team immediately suspect Alice's husband, until she receives a mysterious phone call that links the victim to Maryanne Doyle, a teenage girl who went missing in Ireland 18 years earlier. The call raises uneasy memories for Cat—her family met Maryanne while on holiday, right before she vanished. Though she was only a child, Cat knew that her charming but dissolute father wasn't telling the truth when he denied knowing anything about Maryanne or her disappearance. Did her father do something to the teenage girl all those years ago? Could he have harmed Alice now? And how can you trust a liar even if he might be telling the truth?
Determined to close the two cases, Cat rushes headlong into the investigation, crossing ethical lines and trampling professional codes. But in looking into the past, she might not like what she finds … (via Book of the Month)
Debut
Thriller
Police
Creepy
Family Drama
Whodunit
The Air You Breathe by Frances de Pontes Peebles
Skinny, nine-year-old orphaned Dores is working in the kitchen of a sugar plantation in 1930s Brazil when in walks a girl who changes everything. Graça, the spoiled daughter of a wealthy sugar baron, is clever, well fed, pretty, and thrillingly ill behaved. Born to wildly different worlds, Dores and Graça quickly bond over shared mischief, and then, on a deeper level, over music.
One has a voice like a songbird; the other feels melodies in her soul and composes lyrics to match. Music will become their shared passion, the source of their partnership and their rivalry, and for each, the only way out of the life to which each was born. But only one of the two is destined to be a star. Their intimate, volatile bond will determine each of their fortunes—and haunt their memories.
Traveling from Brazil's inland sugar plantations to the rowdy streets of Lapa in Rio de Janeiro, from Los Angeles during the Golden Age of Hollywood back to the irresistible drumbeat of home, The Air You Breathe unfurls a moving portrait of a lifelong friendship—its unparalleled rewards and lasting losses—and considers what we owe to the relationships that shape our lives. (via Book of the Month)
Historical Fiction
400+ Pages
LGBTQ+ Friendly
Female Friendships
Literary
The Dinner List by Rebecca Serle
At one point or another, we've all been asked to name five people, living or dead, with whom we'd like to have dinner. Why do we choose the people we do? And what if that dinner was to actually happen? These are the questions Rebecca Serle contends with in her utterly captivating novel, The Dinner List, a story imbued with the same delightful magical realism as One Day and the life-changing romance of Me Before You.
When Sabrina arrives at her 30th birthday dinner, she finds at the table not just her best friend, but also three significant people from her past and, well, Audrey Hepburn. As the appetizers are served, wine poured, and dinner table conversation begins, it becomes clear that there's a reason these six people have been gathered together. (via Book of the Month)
Exclusive
Magical Realism
Happy
Supernatural
Light Read
Quirky
The Line That Held Us by David Joy
When Darl Moody went hunting after a monster buck he's chased for years, he never expected he'd accidentally shoot a man digging ginseng. Worse yet, he's killed a Brewer, a family notorious for vengeance and violence. With nowhere to turn, Darl calls on the help of the only man he knows will answer—his best friend, Calvin Hooper. But when Dwayne Brewer comes looking for his missing brother and stumbles onto a blood trail leading straight back to Darl and Calvin, a nightmare of revenge rips apart their world. The Line That Held Us is a story of friendship and family, a tale balanced between destruction and redemption where the only hope is to hold on tight, clenching to those you love. What will you do for the people who mean the most, and what will you grasp to when all that you have is gone? The only certainty in a place so shredded is that no one will get away unscathed. (via Book of the Month)
Appalachian Noir
Fast Read
Movie-ish
Action-packed
Rural
Goodbye Paris by Anstey Harris
Grace once had the beginnings of a promising musical career, but she hasn't been able to play her cello publicly since a traumatic event at music college years ago. Since then, she's built a quiet life for herself in her small English village, repairing instruments and nurturing her long-distance affair with David, the man who has helped her rebuild her life even as she puts her dreams of a family on hold until his children are old enough for him to leave his loveless marriage.
But when David saves the life of a woman in the Paris Metro, his resulting fame shines a light onto the real state of the relationship(s) in his life. Shattered, Grace hits rock bottom and abandons everything that has been important to her, including her dream of entering and winning the world's most important violin-making competition. Her closest friends—a charming elderly violinist with a secret love affair of his own, and her store clerk, a gifted but angst-ridden teenage girl—step in to help, but will their friendship be enough to help her pick up the pieces? (via Book of the Month)
Debut
Contemporary Fiction
Emotional
International
Forbidden Love
Love Triangle
I am not entirely uninterested in any of these books- I actually really like the idea of The Dinner List- but my interest was not enough to rationalize putting it on my physical shelf.
I have seen Goodbye Paris before- there were multiple ARCs available at Book Expo- but other than that these were all new to me authors and books. Have you seen or heard of any of these? Did you choose any of them for your BOTM? Let's chat!