Actually no, that is EXACTLY what this is…it is another Halloween Book Recommendation post. I know you have all had it with these posts by now, but for those of you who don't know, Halloween is my favorite holiday and I take it (mostly) seriously. I couldn't let it pass by without some kind of acknowledgement (other than the Halloween tag I did a couple of weeks ago) so there yah go!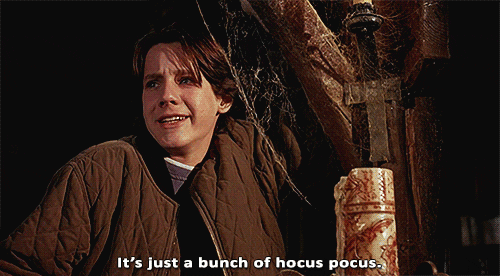 Recommendations Please!
Down Among the Sticks & Bones by Seanan McGuire
This is book #2 in the Wayward Children series. You don't necessarily have to read them in order, but the characters focused on in this book, were both in the first one. This has to be one of my all time favorite vampire stories. When you hear Vampire, unfortunately, a lot of people think of Twilight and that nonsense. This, while hitting many of the cliches, also looks at them a little differently. The series itself are a collection of "novellas" about children who have found doors to other worlds. They lived there and often found that they felt more at "home" there, than they ever did in our world. Book two is about Jack and her twin sister Jill, who found home in one of the scarier, and more violent worlds that have been documented. The story is gritty and spooky, and like I mentioned before, features vampires. This is a relatively short book too! (Like I mentioned before, all the books in this series are technically novellas, which keeps them under 200 pages)
 The Wicked Deep by Shea Ernshaw
Say what you will about this recommendation, but I actually enjoyed this story. Yes it had it's flaws, I'm not saying it was perfect. However, it does something that I haven't really experienced in many other books. Ernshaw does an amazing job setting the tone for this book. From the start, you just automatically feel like you are in that cold, wet sleepy town. I had chills throughout the reading of this book, and it wasn't always from the plot! The Wicked Deep is about a small town that is supposedly haunted by three witches who were killed there many years ago. To get their revenge, every June they call young men into the cold waters where they were drowned, and kill them. They take over the minds and bodies of three teenage women during that time to better lure men into the water. Most of the book goes back and forth between time periods, splitting the story between our modern main character Penny, and the famous Swan Sisters who haunt the town. Another pretty short book, I say give it a try, if not for the atmosphere alone!
 Graveyard Shakes by Laura Terry
Graphic Novel Alert!! I actually almost forgot about this one for a little while. But it was soo good! It takes place in a graveyard, so obvious Halloween feels! And I THINK it also takes place around Halloween…but don't quote me on that. In any case, it is about two sisters. One who is quiet and wants to fit in, and another who is loud and comfortable with who she is. After the sisters fight, one of them goes missing and it is up to her sister to find her. Unfortunately she comes across a man named Nikola who has problems of his own, and shouldn't be crossed. Victoria teams up with a little friendly ghost, and Nikola's son to find her sister. This story features ghosts, ghouls, and magic spells. It is definitely creepy, but on the lighter hearted side, if that makes sense.
 Ghosts by Raina Telgemeier
Speaking of graphic novels, the queen herself wrote a Halloween-y story for our graphic novel loving readers! It is not actually about Halloween though. It is about Day of the Dead, which happens around the same time as Halloween. Sisters Cat and Maya move with their family to a coastal town in California. Maya has cystic fibrosis, and will benefit from the cool, salty air their new little hometown will bring. But Cat didn't want to move and isn't happy when Maya wants to meet one of the supposed ghosts that live in their new town. I love the reps in this book! I thought it was super unique and the dark horse of Telgemeier's books. Everyone is always talking about Sisters and Smile, but I truly think this one is beautifully done. It features ghosts and skeletons, and features a holiday that doesn't always get talked about during this time of the year!
 Behind Her Eyes by Sarah Pinborough
THIS BOOK! It is not Halloween themed, and it does not have ghosts or witches or anything like that, though it does feature a teeny bit of some science fiction (?). This was my first exposure to the thriller/suspense genre and man what a punch it packs! It has one of my all time most hated tropes: Love Triangle, but I did not mind it in this story. It follows these three characters, Louise who is a frumpy, worn-down single mom, David, who is Louise's very married new boss (and one night stand), and Adele, David's wife. Louise gets wrapped up in the drama of this married couple, and ends up seeing both sides. She becomes good friends with Adele, while also still entertaining David at night. A major part of the plot for this book is a bit far-fetched, and you really should have an open mind and/or enjoy some fantastical elements for this to be a hit. This book gave me the creeps, and I loved every page of it.
 Toil & Trouble: 15 Tales of Women & Witchcraft edited by Jessica Spotswood & Tess Sharpe
This was my first read of THIS holiday season and it really was a good one! I don't normally do short stories but this was a really great collection of witch-y stories. There was a lot of LGBTQ+ rep, as well as diversity across the 15 stories. If I remember correctly, only one of the stories left me unsatisfied, and wanting more. Most of them would have made really great novels, but somehow the author left me satisfied with just a few pages.  The stories take place in a plethora of different time periods and locations. There are spells, specialties in different elements, rebellion, and love. I would highly recommend this collection to all lovers of witches.
 the Harry Potter series by J.K. Rowling
But of course my dearies! I wasn't going to NOT mention the most beautifully written books about witches that ever existed! I think it is pretty obvious that I love me some Harry Potter at all times (not just during Halloween, or Christmas if you're ABC Family). It has everything you could ever want! Magic, Witches (and Wizards), Goblins, Giants, Werewolves, Fantastical creatures and an evil man who is greedy for power, and revenge. You cannot go wrong with Harry Potter. And with all the different versions out now, you can enjoy it in multiple different ways! If you haven't already, I HIGHLY suggest you try it out. Harry Potter is life.
I tried to pick different books than the ones I have seen all over the blog/youtube scene. What do you think? Have you read any of these? Do you agree with my choices? What other books would you have included?