First I want to apologize for how late this post is! Things have been crazy lately, and while I have had the books for the majority of the month, I just couldn't figure out how I wanted to photograph them and that is why this is so delayed. November is hard guys. It is the start of the holiday season so you are spending all your extra time decorating, or holiday shopping, I am in the middle of wedding planning and of course I have added even more to my plate. In case you missed my hiatus announcement (view able here: Brief Hiatus), I have decided to sign up for mock book award discussions that are being run by my library's system. With those signups, I have now added 13+ books to my TBR that are required reading, and must be read before discussion dates (aka by mid-January). That alone is going to be hard (for me) to complete, so I have decided to take a brief personal reading break for the remainder of the year. I don't know what that will mean for December BOTM but as of right now everything is on the back burner until further notice. Either way though, I wanted to highlight my Novmeber choices for you today!
Nine Perfect Strangers by Liane Moriarty
Nine people gather at a remote health resort. Some are here to lose weight, some are here to get a reboot on life, some are here for reasons they can't even admit to themselves. Amidst all of the luxury and pampering, the mindfulness and meditation, they know these ten days might involve some real work. But none of them could imagine just how challenging the next ten days are going to be.
Frances Welty, the formerly best-selling romantic novelist, arrives at Tranquillum House nursing a bad back, a broken heart, and an exquisitely painful paper cut. She's immediately intrigued by her fellow guests. Most of them don't look to be in need of a health resort at all. But the person that intrigues her most is the strange and charismatic owner/director of Tranquillum House. Could this person really have the answers Frances didn't even know she was seeking? Should Frances put aside her doubts and immerse herself in everything Tranquillum House has to offer – or should she run while she still can?
It's not long before every guest at Tranquillum House is asking exactly the same question.
Combining all of the hallmarks that have made her writing a go-to for anyone looking for wickedly smart, page-turning fiction that will make you laugh and gasp, Liane Moriarty's Nine Perfect Strangers once again shows why she is a master of her craft.
(via Goodreads)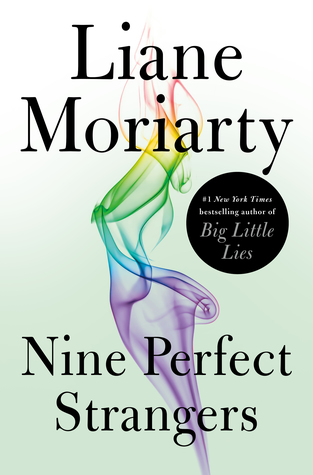 I have been talking about this book for the better part of this month, or at least it feels that way. I really really loved Moriarty's What Alice Forgot and Big Little Lies, they blew me away. So it was extra disappointing that Truly Madly Guilty fell so short when I read it a year or so ago. This is Moriarty's newest novel, and I am anxious to be redeemed for TMG but I am super skeptical. It sounds more like TMG than BLL or WAF. We shall see what happens though. I will say I am sad I couldn't participate with them, but next month The Traveling Sisters are reading this together with all their book club members. You can see their post about it here.
Unsheltered by Barbara Kingsolver
Willa Knox has always prided herself on being the embodiment of responsibility for her family. Which is why it's so unnerving that she's arrived at middle age with nothing to show for her hard work and dedication but a stack of unpaid bills and an inherited brick home in Vineland, New Jersey, that is literally falling apart. The magazine where she worked has folded, and the college where her husband had tenure has closed. The dilapidated house is also home to her ailing and cantankerous Greek father-in-law and her two grown children: her stubborn, free-spirited daughter, Tig, and her dutiful debt-ridden, ivy educated son, Zeke, who has arrived with his unplanned baby in the wake of a life-shattering development.
In an act of desperation, Willa begins to investigate the history of her home, hoping that the local historical preservation society might take an interest and provide funding for its direly needed repairs. Through her research into Vineland's past and its creation as a Utopian community, she discovers a kindred spirit from the 1880s, Thatcher Greenwood.
A science teacher with a lifelong passion for honest investigation, Thatcher finds himself under siege in his community for telling the truth: his employer forbids him to speak of the exciting new theory recently published by Charles Darwin. Thatcher's friendships with a brilliant woman scientist and a renegade newspaper editor draw him into a vendetta with the town's most powerful men. At home, his new wife and status-conscious mother-in-law bristle at the risk of scandal, and dismiss his financial worries and the news that their elegant house is structurally unsound.
Brilliantly executed and compulsively listenable, Unsheltered is the story of two families, in two centuries, who live at the corner of Sixth and Plum, as they navigate the challenges of surviving a world in the throes of major cultural shifts. In this mesmerizing story told in alternating chapters, Willa and Thatcher come to realize that though the future is uncertain, even unnerving, shelter can be found in the bonds of kindred—whether family or friends—and in the strength of the human spirit.
(via Goodreads)
This description reminded me a lot of Commonwealth, which I read earlier this year and really enjoyed. It is a step out of what I normally would pick up, but I think that is what drew me to it. It was nice to read something a little different, and I did really enjoy Commonwealth so I thought that maybe I would give this one a try.
I don't know when I will be able to get to these books, certainly not until 2019, so for now it will have to be added to my humongous BOTM TBR. Are any of these on your radar? What do you think? Let's chat!
Have you heard about Book of the Month? It's a great way to discover new books you wouldn't have found on your own. I love being a member, and I think you will too.
Get a free book when you join using my referral link. Happy reading!