I decided that graphic novels were something I wanted to catch up on the last few weeks. With the end of the year quickly approaching, and less and less reading time on the horizon, I thought binging a bunch of graphic novels would be the perfect way to keep me reading during this difficult time. I have also been itching to check out a bunch of books from the library, and this is the perfect way to do that, without having them hang around my desk for too long!
I am proud to say that I covered an awful lot of books in this binge. Here are my thoughts on all those books! (Did you notice a lot of blue covers? Me too…weird)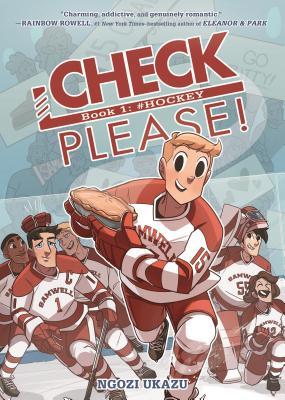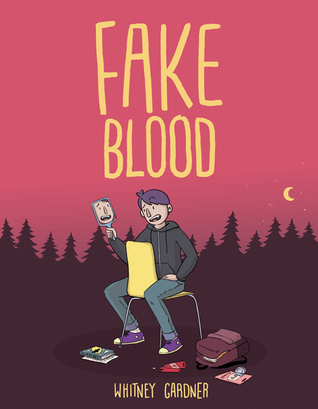 Key: Middle Grade = , YA =, Adult = , Bio/Memoir=
All Summer Long – Hope Larson 
All Summer Long is a classic story of one girl's summer. Bina is best friends with Austin, but he is spending one month of their summer away at soccer camp. When boredom sets in, Bina finds an unlikely friend in Austin's older sister who it turns out likes a lot of the same music as Bina. Austin comes home from camp, but things just aren't the same. These two must figure out a way to adjust to their own separate growth, and respect their differences as ways to make their friendship stronger. It was a cute summer story, but ultimately forgettable for me.
Audience:
Cardboard Kingdom – Chad Sell

I LOVED this book! With the help of several other artists, Chad Sell has created beautiful art in the form of this graphic novel. Cardboard Kingdom is several stories featuring an entire neighborhood of kids who one summer create an epic imaginary world where they all have their own alter egos and adventures. Characters from each of the other chapters are featured throughout the book, allowing it to flow well and feel complete. They also tackle some heavy issues with a light hand, which was done tastefully. I thought this whole concept was super unique and would love to see more stories like it. I loved that you got several totally different stories all wrapped up into the same book. It felt like you were binging an entire series in just one sitting.
Audience:
Brave (Awkward #2) – Svetlana Chmakova
This book… oh my goodness! I loved Awkward when it came out so I was pleasantly surprised to find out that not only did the author come out with Brave, but ANOTHER book in this series is due to come out very soon (if it isn't out already- called Crush). Brave focuses on a different character at Berrywood Middle School, though characters from the first book are present, as is the Art Club. Jenson is the MC in this book, and it follows his somewhat bumpy ride through middle school. He wants desperately to be an astronaut, but has a hard time concentrating in classes. He spends a lot of his time picturing his day to day experiences as "levels" in a video game. With every good video game, you have enemies and obstacles that stand in your way. For Jenson, that includes some of his classmates. When faced with tough questions about bullying, Jenson is forced to look at the experiences in his life and ask himself, "Am I being bullied?" It was sweet and a little bit heartbreaking. Another knock-out for Chmakova. I cannot wait to get my hands on Crush.
Audience:
Kristy's Big Day (Babysitter's Club #6) – Gale Galligan
This one was super cute. I think that the author did a really great job adapting the original to both graphic, and modern form. Kristy's mom is getting married but due to complications with selling their house, the wedding must be moved up several months! With only weeks to plan, Kristy's mom enlists the help of several relatives who combined have a total of 14 children! Kristy's mom doesn't know how the adults will get the wedding planned and set up with that many children running around until Kristy suggests enlisting the entire Babysitter's club to occupy the kids. The color palette for this book was perfect (in my opinion) and I really loved the "photos" from the wedding with all the yellows. As I mentioned, it did a really great job honoring the original text, while still making it feel new and fresh.
Audience:
Hey Kiddo – Jarrett Krosoczka
Wow what a childhood! I have to say, despite a lot of terrible situations and such, the author does an amazing job with making the reader connect to every single character. You want to dislike the grandma sometimes for being so rude, you want to hate the mom for choosing drugs over her son, but somehow you find sympathy and even like for these characters, despite their flaws. Hey Kiddo is a graphic memoir of the author Jarrett Kroscoczka's life growing up. His mom was addicted to heroine, he didn't know his father (until much later) and came to grow up under the supervision of his much older grandparents. This is a story of finding friends, art and family in the worst circumstances. I watched the author's TED Talk after completing the book, where he talks a bit about his past shaping his successful career.
Audience:
Fake Blood – Whitney Gardner
This actually did not go the way that I thought it would originally! To be fair though, I didn't read the description before reading it, I kind of just saw it on a few Booktube videos and added it to my TBR. It is a story about a boy (Aj) who is trying to impress a girl in his class. She just so happens to be obsessed with vampires, and so his mission throughout the book is to transition into a vampire (or at least make her believe he is one). It reminded me a lot of  Fangirl by Rainbow Rowell because in Fangirl, the main character is obsessed with a book series that is very very similar to Harry Potter. In Fake Blood, there is a book called "Moonlight" that Aj reads and uses in his mission to become a vampire. Throughout the story, he references scenes in the book, which oddly seem very similar to Twilight (by Stephenie Meyer). I really loved Aj's sister, she was funny and the most realistic character (in my opinion). You can kind of guess what is going to happen while you are reading, though I didn't want to believe it at first. It was super cute though, and I really loved the big full pages of illustration. The drawing style and palette were really nice too.
Audience:
Check, Please (Hockey #1-2) – Ngozi Ukazu
HOW STINKING CUTE! This was a really great little collection and if I am being honest, I am already DYING for the next one. Check Please is about a young southern boy's freshman and sophomore year on his university's men's hockey team. He is an avid vlogger, and baker too! Throughout much of the story Bitty (Eric) can be found in the hockey house kitchen baking an obscene amount of pies. How does a gay, former figure skater do on a college level hockey team you might ask? Pretty well considering! With an NHL bound team captain and a whole cast of quirky "bro" characters, this story is as sweet as Bitty's pies! I LOVE the vlogger angle; I watch a bit of booktube, and can totally see him as a popular vlogger, one I would most likely watch myself! I also LOVE that the author included so many extras in the back of the book; a stream of Bitty's tweets throughout those two years, Ransom and Holster's "Hockey Shit" lesson (which I found quite humorous) and a few additional scenes from those two years at Samwell. I really liked this book, and cannot wait for the next installment.
Audience:
The Prince and the Dressmaker – Jen Wang
 I actually picked this up because it was one of the required (reading) books for my mock awards workshops. It is surprisingly up for the Caldecott! I love the idea of a graphic novel up for the Caldecott award, though I don't think it will win. Aside from those facts, this books has been on my radar for quite a while. It was really cute to be honest. It is a story about a prince who secretly likes to wear dresses. He hires this incredibly talented no name designer/seamstress to make his secret outfits for him, and she ends up becoming someone of interest for major people in the fashion industry. The prince and the seamstress's friendship is so sweet and adorable. Frances is immediately understanding of Sebastian and his preferences. *The only thing I had an issue with is that the author geared Frances up to be gay- he was very resistant of meeting/courting women to the point where he would run away. That made it seem like he was very much NOT interested in women, which would have been great except that they made him "in love" with Frances in the end. Maybe I read it wrong or understood it differently than it was supposed to come off, but if the author intended to have Sebastian be bi, I don't think that running away from the women in the beginning of the story was the right choice to make. It would have been perfectly fine if he liked to wear dresses and like both men and women, but he shouldn't have acted revolted by the women in the earlier parts of the story.
Audience:
*Currently I am struggling with writing reviews that are representative of how I actually felt about the material that I read. I am pretty easily swayed by other people's opinions, I like to think due to the fact that I am a very empathetic person. Regardless, I try to write reviews directly after I read a book so that I don't forget anything. The problem is that I do not allow myself enough time to fully digest what I have just read, and after my review is posted, I will read other reviews of the same book and find my opinion changing. It is something I am working on and may require some patience on your end. You may see me updating my Goodreads reviews periodically and not my reviews on here. I am thinking about placing a disclaimer on my reviews and providing a link to Goodreads for updated thoughts.
WOW! I impressed myself with how many graphic novels I have gone through in the last two months. I had a whole other stack ready to go too, but this post was getting too long, and I have the discussion books to focus on at the moment so they will have to wait until 2019.
What do you guys think of these Graphic Novel binge-sprees? Do you like having them all in this format (mini-review), or do you think they should be spread out? Let me know your thoughts!