Hey ya'll! I am coming at ya with a "weekly" meme thanks to my friend Joe over @ Storeys of Stories! I really liked this idea because it is less commitment on my part (I don't have to do it EVERY week, only when I start a new book) and gets me talking about books I have just started (or want to start very soon).
Straight from the horse's mouth (if you will):
First Impression Friday will be a meme where you talk about a book that you JUST STARTED! Maybe you're only a chapter or two in, maybe a little farther.  Based on this sampling of your current read, give a few impressions and predict what you'll think by the end.  Did you think you'd love it and ended up hating it? Or did you think you'd hate it and wound up loving it? Or were you exactly right? I think what will really make this meme a lot of fun, is linking back to it from your review to say, "Look at how wrong I was!" OR "See? I knew it all along!"
This week I started: Sky in the Deep by Adrienne Young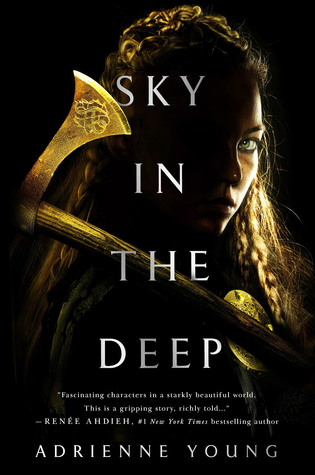 This was my very first "Back List" pick of 2019, and now that all the Mock Award discussions are over, this was obviously the first book I picked up!
It had ALL the hype when it first came out. I remember seeing it all over everyone's blogs. I also vaguely remember mostly positive things about it at that time. Since then, the hype has certainly died down, and it definitely did not appear on anyone's "best of" wrap-ups from last year so I am not sure how I feel going into it.
I mean at first glance, VIKINGS! And something about a supposidely dead brother not being so dead after all? AND fighting for the other side? Sounded like an epic adventure for sure. I am only 3 chapters in so far (about 16 pages) and I am still unsure how I feel. One positive is that the chapters are mostly short so thumbs up for that! The book starts off with a huge fight scene, and we have already had our first sighting of supposed dead brother, and yet…? So far, I am not impressed, BUT I have only read a handful of pages so there is still time to turn around.
I am predicting a 3 out of 5 stars for Sky in the Deep.