Wow it has been QUITE some time since I last did one of these posts for real. I had to go back to make sure I remembered the structure of it! This was a SUPER fast pick for me, though I am surprised that I splurged for the second book with the amount I have piling up.

Daisy Jones and the Six by Taylor Jenkins Reid
Everyone knows Daisy Jones & The Six, but nobody knows the reason behind their split at the absolute height of their popularity … until now.
Daisy is a girl coming of age in L.A. in the late sixties, sneaking into clubs on the Sunset Strip, sleeping with rock stars, and dreaming of singing at the Whisky a Go Go. The sex and drugs are thrilling, but it's the rock and roll she loves most. By the time she's twenty, her voice is getting noticed, and she has the kind of heedless beauty that makes people do crazy things.
Also getting noticed is The Six, a band led by the brooding Billy Dunne. On the eve of their first tour, his girlfriend Camila finds out she's pregnant, and with the pressure of impending fatherhood and fame, Billy goes a little wild on the road.
Daisy and Billy cross paths when a producer realizes that the key to supercharged success is to put the two together. What happens next will become the stuff of legend.
The making of that legend is chronicled in this riveting and unforgettable novel, written as an oral history of one of the biggest bands of the seventies.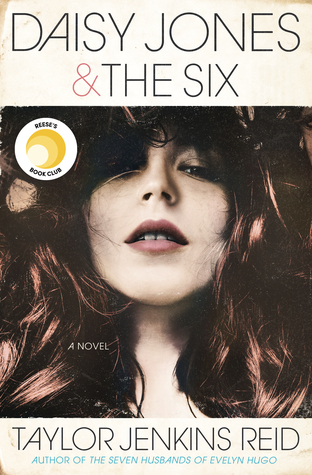 This was already a high priority for me. With how much I loved Evelyn Hugo, I am honestly surprised that I haven't picked up any of her other older books yet. Regardless, this is the newest book by the iconic TJR so it was already on my TBR. THEN this "group" I watch on Booktube made up of two of my favorite booktubers (Hailey and Hannah) and their other friend Zoe – Bookmarked – announced that they were launching their own book discussion group! Surprise Surprise, this ended up being their choice for March. So I immediately put a hold on it at the library. Shortly after that though, I logged into my BOTM account only to see her pretty face again! OH! And did I mention it is also Reese Witherspoon's pick for the month of March? This book is seriously everywhere right now so it was easily an instant pick for me.
Before She Knew Him by Peter Swanson
Hen and her husband Lloyd have settled into a quiet life in a new house outside of Boston, Massachusetts. Hen (short for Henrietta) is an illustrator and works out of a studio nearby, and has found the right meds to control her bipolar disorder. Finally, she's found some stability and peace.
But when they meet the neighbors next door, that calm begins to erode as she spots a familiar object displayed on the husband's office shelf. The sports trophy looks exactly like one that went missing from the home of a young man who was killed two years ago. Hen knows because she's long had a fascination with this unsolved murder—an obsession she doesn't talk about anymore, but can't fully shake either.
Could her neighbor, Matthew, be a killer? Or is this the beginning of another psychotic episode like the one she suffered back in college, when she became so consumed with proving a fellow student guilty that she ended up hurting a classmate?
The more Hen observes Matthew, the more she suspects he's planning something truly terrifying. Yet no one will believe her. Then one night, when she comes face to face with Matthew in a dark parking lot, she realizes that he knows she's been watching him, that she's really on to him. And that this is the beginning of a horrifying nightmare she may not live to escape. . .
This sounds like something I am really in the mood to read right now. While it is really nice that I have been setting and trying to stick to my TBRs this year, I have noticed that a lot of other readers pointed out that we tend to take other people's POVs into account when choosing a book. Actually, Hailey (@Hailey in Bookland) pointed out that reading in this community is no longer a solitary activity. Instead it is extremely social, sometimes resulting in disappointment and unneeded pressure. Look, I love you guys, and I love your recommendations. But if I ever want to kick this slump, I have GOT to start picking up things I actually am in the mood to read, not just the book that has been floating around everyone's pages. Plus I feel like I read thrillers and contemporaries really fast, which could seriously help in pulling me out of this terrible slump.
I am super excited for these choices to be honest. That excitement hasn't been around for a while for me, which is why I took a mini break from BOTM. I'm glad to be back though, and look forward to discussing these books with all of you.
---
Have you heard about Book of the Month? It's a great way to discover new books! I love being a member, and I think you will too.
Want to try it out for free? Use my my referral link to get your first free book!