So this March I am tried something I have only ever done one other time, and that is Buddy Read! I am currently working my way through The Book Thief (by Markus Zusak) with Joe over at Stories of Storeys. Since that is taking up a big chunk of my reading this month, I thought that in between discussion periods when I am waiting to speak with Joe or catch up, etc., it would be prudent for me to continue to read other books. The problem is I have a short attention span when it comes to books which is why I only tend to read one book at a time (and fail at reading/listening to audiobooks). My solution was to pick up a number of graphic novels! Graphic novels tend to be one sitting books for me, and can be found in a plethora of genres. I picked up the following graphic novels in the month of March and here is what I thought of them!
---
Wow what a fun story! This is gearing up to be the only 5-star rating this month actually. It follows the main character, a villain named Lord Ballister Blackheart. He is your typical villain, complete with arch-nemesis/ex best friend Sir Ambrosius Goldenloin. The thing about Blackheart is that he didn't choose the villain life, the villain life chose him. And for that reason (perhaps?) he is reluctant to cause much damage or injure, maim or kill anyone who gets in the way of his "evil" plans. In walks Nimona, a shape-shifting badass who admires and wants to work with Blackheart. Unfortunately, she is a bit more brash in a "punch now, ask later" kind of way. Blackheart is constantly reining her in, and reminding her NOT to kill anyone. Things get hairy, as they do, when the supposedly "good" league that Goldenloin comes from has been found out for harvesting illegal and dangerous things behind the backs of the people they swore to protect. Nimona's powers prove to be more than anyone could have possibly imagined, and lead to a particularly vicious battle that puts everyone on the side of stopping her. The art for this was so cute and fun, and when I tell you the banter had me laughing out loud, I really mean that. It was fun, sassy, and different that what I was expecting. It reminded me a lot of Dr. Horrible where the story follows the villain which society deems the wrong side, but ultimately they end up being the "good" guys that you just fall for. Would recommend for just about anyone. The sass alone got me through the story.
I don't remember where I saw this, or how I heard about it, but somehow it ended up on my radar and quickly in my hands. Just from the cover I got such warm beachy vibes which is what I was looking for at the moment. As it turns out, the story follows two girls who live in this small beach town called Surfside. In the wake of a big, expensive hotel/resort going up, Samantha discovers a secret underwater cave that leads to a literal ghost town in the same location as the proposed hotel. They (the ghosts) have determined that Sam is now their keeper, and responsible for saving them from being displaced by the hotel. Sam, with the help of her friend Jade must figure out a number of things surrounding this sketchy hotel deal and end up at the center of an FBI investigation. I wasn't expecting a mystery (or a sequel) or ghosts, but it was cute and I would consider maybe continuing with the series. It is aimed at a younger age bracket though with Sam not understanding her friend Jade being giggly around boys but then experiencing her first crush. All in all, it wasn't a waste of time, but it wasn't something to write home over either.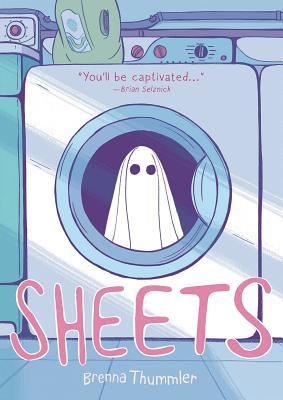 This was another book that I was completely caught off guard with the content. The book follows two characters, Marjorie, a 13-year old girl who runs her family's laundromat and simultaneously remains unnoticed at school, unless it is to be made fun of. And young ghost Wendell, who died at a young age and doesn't seem to fit in at his new ghost town. Their lives collide at the laundromat where Wendell is just trying to escape his new "life" while also ruining Marjorie's (not on purpose, of course). There is this loathsome, frankly delusional man, Mr. Saubertuck who continuously tries to buy the business from Marjorie (at an unfair price) while also trying to sabotage it to get a better "price." It was kind of a whirlwind story, that I wasn't super invested in. It was SUPER sad right off the bat, which I wasn't expecting and all around, I wasn't entirely behind the whole thing. I loved the art style and color pallet, and actually I met the author at Book Expo last year, whom is utterly sweet, but it just wasn't my cup of tea.
Bloom is a brand new graphic novel about two boys who work at a bakery in a small beach town. One of the main characters, Ari, is the son of the owners of the bakery, and is spending his summer helping his parents out, but is determined to move to the city with his band-mates by the end. Hector is a culinary student who has traveled to his nana's home in the same beach town to clean it out after her death. He is charmed by her house and the little town and contemplates taking some time off from school. A hap-hazardous "Help Wanted" sign brings these two together where they spend the summer baking and getting to know one another. I found Ari's character to be a bit aggravating at times but I really enjoyed Hector. I thought that their shared dynamic was super interesting and really liked the parts with them together. I really liked the concept and the overall story but some of the bigger panels got a bit confusing with the limited pallet. I couldn't tell exactly what was going on in those sequences, but the rest of the artwork was lovely.
I love squeezing in graphic novels here and there. Which ones have you been reading? Do you have any recommendations?