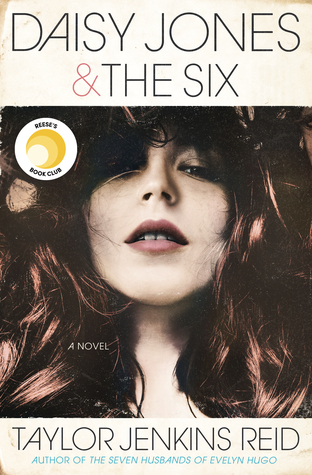 (Taylor Jenkins Reid, 2019)
Everyone knows Daisy Jones & The Six, but nobody knows the reason behind their split at the absolute height of their popularity . . . until now.
Daisy is a girl coming of age in L.A. in the late sixties, sneaking into clubs on the Sunset Strip, sleeping with rock stars, and dreaming of singing at the Whisky a Go Go. The sex and drugs are thrilling, but it's the rock and roll she loves most. By the time she's twenty, her voice is getting noticed, and she has the kind of heedless beauty that makes people do crazy things.
Also getting noticed is The Six, a band led by the brooding Billy Dunne. On the eve of their first tour, his girlfriend Camila finds out she's pregnant, and with the pressure of impending fatherhood and fame, Billy goes a little wild on the road.
Daisy and Billy cross paths when a producer realizes that the key to supercharged success is to put the two together. What happens next will become the stuff of legend.
The making of that legend is chronicled in this riveting and unforgettable novel, written as an oral history of one of the biggest bands of the seventies. Taylor Jenkins Reid is a talented writer who takes her work to a new level with Daisy Jones & The Six, brilliantly capturing a place and time in an utterly distinctive voice.
(via Goodreads)
Everybody saw her. Your eye went right to her. If the rest of the world was silver, Daisy was gold.
What I Liked
Format

By the description alone, I wasn't sure I would enjoy this one half as much as Evelyn Hugo, but I was gravely mistaken. The entire book is told in an interview format. A journalist is getting the story behind the start of both the Band (the Six) and Daisy Jones, how they came together, worked together, and what ultimately led to their break-up after a seemingly successful show in Chicago in 1979. Because it is told in an interview format, I felt like the book read really quickly. The audiobook is full cast, with some semi-famous voices lending a hand. It was well crafted and unique, something, especially after the success of Sadie, readers are screaming about.

Historical fiction

Because it was set in the 70's, it really has a good rock & roll vibe. Reid does an amazing job of letting the characters really paint a picture of their lives during that time. Descriptions are so vivid that you are instantly placed into that time period, as if you lived along-side them. I love books that do well with that, especially in historical fiction.

Strong female characters

In one of the discussion questions I looked up, it talks about the story's 4 main female characters, how they were different, and how they showed their power. Though the story had a limited number or women, they still felt very present and very powerful in this story. Daisy Jones was the type of girl who didn't take shit from anyone. She did whatever she wanted, and answered to no one. Camilla was similar in that she clearly held all the cards when she was in the room, but went about it in different ways. Karen, she struggled with her own power and how to best use it. I loved that dynamic in the story, seeing each of these women struggle and hone in on their powers.
When you are in a situation like that, when you have a man looming over you, it's as if every decision you made to lead to that moment- alone with a man you don't trust- flashes before your eyes. Something tells me men don't do that same thing. When they are standing there, threatening a woman, I doubt they count every wrong step they made to become the asshole they are. But they should.
What I Disliked
Many POVs

While it was necessary to the story line, I found that at times having so many voices really confused me. I would have to keep flipping backwards to remind myself whose memory we were currently in and sometimes (in the case of more of the side characters) what their relationship was to the band.

Daisy Jones

This is going to be a big unpopular opinion here but I didn't really like Daisy all that much. I think I connected more with Billy, so his initial impressions of her kind of rubbed off on me? I don't know, she just seemed very whiny and selfish and I won't lie, I was really not into all the drugs she talked about doing. I know it was accurate to the time period but I wasn't super into those parts of the story.

Music

I really really really wanted a soundtrack for this book. I was semi hoping that they would have some of the songs recorded and used during the audiobook but alas. I mean they are all written out already, and since we have gone into detail about the recording of many of these songs, I think it really would have been icing on the cake to record them, and have them playing during the audiobook when they are being talked about, much like a real band interview goes.

Discussion Questions
I actually found an entire Daisy Jones and the Six "Fan Club Kit" online when I was looking for discussion questions. It comes with all the song lyrics, questions and some other content. You can check that out here: Fan Club Kit
I answered 4 of the 15 questions, which I'll share with you here. Please note the "Discussion Questions" section of this review may contain SPOILERS. Proceed with caution.
SPOILERS! SPOILERS! SPOILERS
Proceed to

Final Thoughts

for spoiler-free content!
5. Daisy, Camilla, Simone and Karen are each very different embodiment of female strength and creativity. Who are you more drawn to and why?
I touched on this earlier but I am much more drawn to Camilla. I want what I want and at this point in my life, I am willing to (supposedly) accept whatever it takes to make it work. Now I don't know that I would be so understanding or so trusting, especially if my husband were an addict in a rock and roll band. BUT that is why I like her so much. She is someone I strive to be, able to see the bigger picture of her family just the way she sees it, and capable of looking past the ugly parts in order to get to where she wants to be. Her trust in Billy is something I envy. I wish I could accept things the way that she does, and my life isn't even that serious!
But saying to someone, "No matter what you do, we're not over…" I don't know. Something about that relaxed me.
7. Why do you think Billy and Daisy clash so strongly? What misunderstandings between them are revealed through the "author's" investigation?
This was an easy one for me. It felt so obvious why they clash so much. They clash because Billy sees everything he wants in Daisy. She is so free that he finds himself more jealous than disgusted, but pretends otherwise to save face. He also battles a lot with temptation when he is with her, which is why he tries to avoid her as much as possible. Daisy recognizes herself in Billy, but doesn't understand his internal struggles while in her presence so it bothers her when he doesn't reciprocate shared feelings. Not only is Daisy herself a temptation, but her life, the drugs she so freely uses, the way in which she lives her life, all those things are triggers for Billy, because if he wanted to, he would be that way too. It's a very "forbidden fruit" feeling for Billy, but unfortunately because he isn't open with her, she just sees her feelings as one sided, when they aren't.
11. What do you think of Karen's decision about her pregnancy and Graham's reaction to the news? What part do gender roles play in their situation?
Karen and Graham's situation was difficult for me, I can absolutely see it from both sides. It was Graham's baby too and it should have been discussed more. However, Karen was right. It wasn't like Graham was going to quit the band to be a father. Instead, he was asking that she give it up to raise their child. Now I don't doubt that Graham would have been an attentive father, and faithful to Karen, but that wasn't the main issue for Karen. The fact that he expected her to quit the band to raise their kid was the problem. Truth be told, had I been in Karen's position, I probably would have acted similarly. Either way, they should have been talking more about their relationship and what each one expected to get from it. They both wanted very different things, and if they had talked about it beforehand, they might not have had to make that decision because they most likely wouldn't have been together anymore.
Women will crush you, you know? I suppose everybody hurts everybody, but women always seem to get back up, you ever notice that? Women are always still standing.
12. Were you surprised to discover who the "author" was? How did you react to learning the author's reason for writing the book?
It kind of took me out of the story a little bit when the author was revealed. Like I was waking up from a dream. I'm not sure I understand or got why she decided to write the book, but if it is for what I think it is, I mean, it's a cool story, but a whole lot of extra work.
As a side note- I guess Taylor Jenkins Reid really liked writing about journalists getting to know the famous, huh?
Final Thoughts
I really liked this book. It was much more interesting that I originally thought it would be and I have to say, I was skeptical, but I really am enjoying the audiobook as well. I think it is super cool that real actors are lending their voices for these characters.
I found the setting and the general plot extremely interesting but balked at how drugs played a major role. That's just a personal note, but I was really uncomfortable with that aspect of the story. I ended up liking (and relating) to a number of characters, one of them NOT being Daisy. In fact, (unpopular opinion) I really did not like her character at all.
It was beautifully written, as expected, and really puts you right in the heart of 70's rock & roll. I would have liked an actual soundtrack to go along with it though, but I supposed that is the hazard of reading music heavy fiction – those songs mentioned don't actually exist, which takes me out of the story sometimes. Regardless, I would recommend this to many people, because it is just that good.
But loving somebody isn't perfection and good times and laughing and making love. Love is forgiveness and patience and faith and every once in a while, it's a gut punch.
**Bookmarked, a live-chat hosted by booktubers Hailey (Hailey in Bookland), Hannah (A Clockwork Reader) and Zoe (ReadbyZoe) has started a book club. Their first pick was Daisy Jones and the Six by Taylor Jenkins Reid! They will be hosting a live discussion on youtube in the next few days (the end of March). Check out their Twitter for more information (like event times, new book choices etc.). You can also catch up on their live chats, which are all archived on youtube.
Bookmarked Live Shows playlist (Youtube)