Hey ya'll! I am coming at ya with a "weekly" meme thanks to my friend Joe over @ Storeys of Stories! I really liked this idea because it is less commitment on my part (I don't have to do it EVERY week, only when I start a new book) and gets me talking about books I have just started (or want to start very soon).
Straight from the horse's mouth (if you will):
First Impression Friday will be a meme where you talk about a book that you JUST STARTED! Maybe you're only a chapter or two in, maybe a little farther.  Based on this sampling of your current read, give a few impressions and predict what you'll think by the end.  Did you think you'd love it and ended up hating it? Or did you think you'd hate it and wound up loving it? Or were you exactly right? I think what will really make this meme a lot of fun, is linking back to it from your review to say, "Look at how wrong I was!" OR "See? I knew it all along!"
This week I started:
Scythe – Neal Shusterman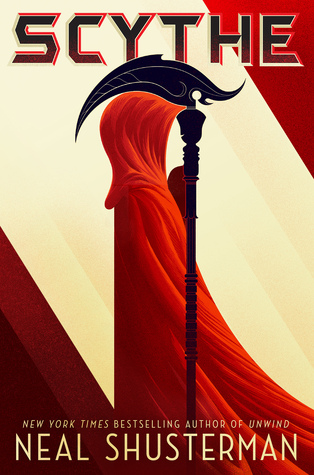 This is Bookmarked's Book Club pick for the month of April. Since it was already on my TBR, for the first time ever, I am (semi) regularly participating in a book club – by participating, I mean to say that I am reading the selected book of the month. At this current time, I am about 200 pages into the story (around 170) and I do not know how I feel about it at all. On one hand, I don't really like the writing style all that much, but on the other, I read 200 pages in one day because I wanted to know where the story would go. You tell me? I am thinking maybe a 4 out of 5 stars? The real question will be whether or not I HAVE to read Thunderhead right after. Only time will tell!
If you want to participate in the live discussion with Bookmarked, according to their various social media accounts, the discussion will be on Youtube, on Hailey's channel (Hailey in Bookland) on Sunday April 28th @ 3pm EST.