Please excuse the dust! I am in the middle of revamping (yet again) the format to this, and a couple other "staple" posts on my blog. I haven't been happy with them for quite a while so if you notice a lot of inconsistency, that is just me working on finding the better format! Wrap-ups, Book Hauls, TBRs, etc. have been some of my favorite things to browse on this website (and on Booktube!) so it is important to me that I find a format I like, and that gives you guys the information that you need/want from them.
That being said, April was a slightly slower month for reading. I found that sneaking in a few graphic novels between books helped bump my numbers and put me back on track for my Goodreads goal (which I have already edited so far this year) but hasn't helped a whole lot anywhere else. I have been feeling a bit slumpy, probably because I am stressed to the max at work, and simultaneously trying to plan my wedding, so I have concluded that I will only pick up books I really feel like reading at that moment, and not worry about the ones I feel like I "have to" read.
General Updates:
Books Read this Month: 6
Book Reviews: 2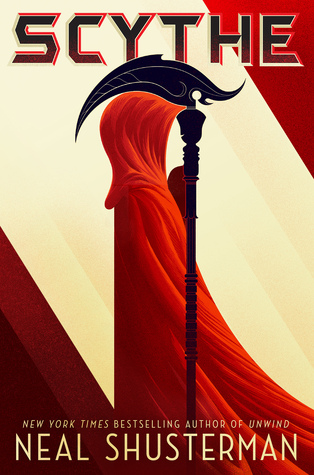 Books I Really Enjoyed
 Click by Kayla Miller
This was super cute. Average fifth grader who seems to be friends with everyone, is  confused when all her classmates pair up for a talent show, and don't ask her to join them. Raina Telgemeier-esque in art style and typical middle school issue, I think it is a series that will be well liked among like-minded fans. I already put a hold on the second book, Camp, at the library.
Opposite of Always by Justin A. Reynolds – Review
What was gearing up to be yet another contemporary YA love triangle, turned into something so much better and different than I was expecting. I really like the slightly science-fiction vibe that still felt very true to life in this story, very much like the hit movie, Groundhog Day (go watch it, if you haven't seen it!). I loved the quirkiness of the characters and their banter. The author's writing style was fresh and new, and just a lot of fun. I will be looking for more books by him in the future.
Scythe by Neal Shusterman – Review (to come)
I read this for the Bookmarked Book Club. It was their April pick, and by the time you are reading this, they would have already had their live show discussing it, which you can view here if you'd like. Overall, I liked it quite a bit. Scythe takes place in a utopian society that has found a way to beat mortality. People no longer die, and are managed by an AI named Thunderhead. Unlike other "all powerful AI" stories, Thunderhead seems to be the only "good" one, at least so far. The problem stems from the a society that has no limitations, and cannot be touched by Thunderhead, Scythes. Their main duty is to kill or "glean" the population to keep it within sustainability. Things get super political as two Scythe apprentices start to unravel the tribulations among fellow Scythes and their differences in opinion on where to take the Scythedom. It felt a little long, which is why I am hesitant to immediately start the sequel Thunderhead, but overall, I liked the idea and concept behind it.
Meh Books
Mera: Tidebreaker by Danielle Paige
I have to say, I am (so far) not all that impressed by DC's new imprint books. I wrote a post on the two new imprints that launched this year via DC that were targeting middle grade and YA readers (you can see that here). This is the first one I read under the teen imprint (DC Ink) and I wasn't super impressed. It felt like it was geared more toward the younger end of YA because the plot was fairly simple and carried out very cleanly (if that makes sense). It is about a princess of the sea, Mera, who must kill the heir to the throne in order to ensure her place as Queen. The writing, the plot, it all fell very flat for me.
 Super Sons: The Polarshield Project by Ridley Pearson
This is one of the first graphic novels under the middle grade imprint (DC Zoom) and it was just about average to me. I thought the writing was slightly better than Mera's was, and I enjoyed the art for it, for the most part. It did get a bit cheesy at times, and also felt like it moved very fast for a graphic novel (more like a comic book) but overall, was much better crafted for the audience in mind. This (book one) follows the story of the sons of two famous super heroes. Damian "Ian" Wayne and Jon Kent take things into their own hands, with the help of a school friend, Tilly, and mysterious "maybe?" African royalty Candace, when a weird sickness coincides with perpetual damage to an important levy constructed by Wayne Enterprises. They learn that it wasn't build incorrectly, as many would want you to think, but instead being sabotaged. It was just ok. It definitely has room to grow though.
Yikes/DNFs
 Practical Magic by Alice Hoffman – Review
Yeah…no. I really wanted to like this, I did! I even forced myself all the way through it in hopes that it would get better and it didn't It just wasn't for me. I don't think I mesh well with Hoffman's writing style so I simultaneously put Rules of Magic on the back burner for now. Practical Magic is supposed to follow two sisters who are raised by their weird aunts. It promised magic and mystery, and instead ended up being more pointless flashbacks and pages of description that no one needed.
   You can find a key for the icons here.   
Community Highlights:
Mr. Library Dude: The Library as a Third Place
Book Princess Reviews: Should You Engage in Book Drama?
My Comic Relief: Team Cap, A Realization
Pages Unbound Reviews: Where are the Mothers in Young Adult Books? Hint: They're Dead
Storeys of Stories: The Contest of Covers
An Average Life: How the Order We Read in May Affect Our Ratings
Drizzle & Hurricane: How to Find Your Blogging Voice and Your Best Blogging Self
Book of the Month Club:
Typically, I do a review of the book(s) that I selected from the club that month, or an overall review of the choices if I skip it. I didn't do that this month. I had it all prepped but to be honest? I didn't take a "unique" picture of my selection so I never published the post. Are these monthly posts you still want to see? Or would you not even notice if they disappeared? Is it better off just being a little note in my wrap-up? Let me know what you think!
My April pick was: Normal People by Sally Rooney
I honestly had no business getting this book. My BOTM shelf is overflowing and I just told myself that I was only going to get "must haves" from now on, but this one just spoke to me. Maybe if I resolve to only get books that I am going to pick up that same month until the unread shelf starts to empty out? Either way, this just sounded like a really great contemporary with a little more punch than your average fluffy one. I have also noticed a whole lot of other people talking about it so that makes me more motivated to pick it up. I have not read anything else by this author, so we shall see what happens!
Books Hauled/Pre-Ordered:
How was your month of reading? What do you think of the new format? Feedback is always welcome :]