Hey guys! I have seen the "Try a Chapter Challenge" on many blogs and youtube videos, but the ones that immediately come to mind are Destiny's @ Howling Libraries and Hailey's most recent fantasy one:
I love these challenges because you get a whole bunch of initial thoughts on a bunch of different books, all in one shot. Since I have been a bit slumpy lately, I have gathered 8 books I may be interested in reading this May, and tried the first chapter in each of them to determine which book I would start my month with!
The Books:
Thunderhead – Neal Shusterman (book #2 in the Arc of a Scythe series)
Cross Her Heart – Sarah Pinborough
Maybe in Another Life – Taylor Jenkins Reid
Normal People – Sally Rooney
With the Fire on High – Katherine Acevedo
Again, But Better – Christine Riccio
Rayne and Delilah's Midnight Matinee – Jeff Zentner
Hot Dog Girl – Jennifer Dugan
Thunderhead – Neal Shusterman

Rowan has gone rogue, and has taken it upon himself to put the Scythedom through a trial by fire. Literally. In the year since Winter Conclave, he has gone off-grid, and has been striking out against corrupt scythes—not only in MidMerica, but across the entire continent. He is a dark folk hero now—"Scythe Lucifer"—a vigilante taking down corrupt scythes in flames.

Citra, now a junior scythe under Scythe Curie, sees the corruption and wants to help change it from the inside out, but is thwarted at every turn, and threatened by the "new order" scythes. Realizing she cannot do this alone—or even with the help of Scythe Curie and Faraday, she does the unthinkable, and risks being "deadish" so she can communicate with the Thunderhead—the only being on earth wise enough to solve the dire problems of a perfect world. But will it help solve those problems, or simply watch as perfection goes into decline?
Chapter Page Count: 10
My Thoughts:
I really want to continue this one. I just finished Scythe not too long ago and even though I wasn't too sure if I wanted to continue the series (especially with less than great reviews of this book), I am immediately pulled into the story by the first chapter.
Cross Her Heart – Sarah Pinborough

Lisa lives for her daughter Ava, her job, and her best friend Marilyn, but when a handsome client shows an interest in her, Lisa starts daydreaming about sharing her life with him too. Maybe she's ready now. Maybe she can trust again. Maybe it's time to let her terrifying secret past go. Then her daughter rescues a boy from drowning and their pictures are all over the news for everyone to see. Lisa's world explodes, and she finds everything she has built threatened. Not knowing whom she can trust, it's up to her to face her past to save what she holds dear.
Chapter Page Count: 9
My Thoughts:
I read the first two "chapters" for this one because the first one was only a page long. Very intriguing. I really loved Pinborough's first book, and was ecstatic when I saw she wrote a new one. So far, this book is told in two perspectives, and estranged couple. The man is an abusive alcoholic, and the woman is (now) a single mother who ran away from her past. It seems fairly typical/cookie cutter but I am very interested to see where it goes from here.
Maybe in Another Life – Taylor Jenkins Reid

From the acclaimed author of Forever, Interrupted and After I Docomes a breathtaking new novel about a young woman whose fate hinges on the choice she makes after bumping into an old flame; in alternating chapters, we see two possible scenarios unfold—with stunningly different results.

At the age of twenty-nine, Hannah Martin still has no idea what she wants to do with her life. She has lived in six different cities and held countless meaningless jobs since graduating college. On the heels of leaving yet another city, Hannah moves back to her hometown of Los Angeles and takes up residence in her best friend Gabby's guestroom. Shortly after getting back to town, Hannah goes out to a bar one night with Gabby and meets up with her high school boyfriend, Ethan.

Just after midnight, Gabby asks Hannah if she's ready to go. A moment later, Ethan offers to give her a ride later if she wants to stay. Hannah hesitates. What happens if she leaves with Gabby? What happens if she leaves with Ethan?

In concurrent storylines, Hannah lives out the effects of each decision. Quickly, these parallel universes develop into radically different stories with large-scale consequences for Hannah, as well as the people around her. As the two alternate realities run their course, Maybe in Another Life raises questions about fate and true love: Is anything meant to be? How much in our life is determined by chance? And perhaps, most compellingly: Is there such a thing as a soul mate?

Hannah believes there is. And, in both worlds, she believes she's found him.
Chapter Page Count: 4
My Thoughts:
I have only read her two most popular books, but I really love Taylor Jenkins Reid. I am determined to read her others, though it seems they are definitely not as popular. This one definitely feels different than the ones I have read, but I liked it just the same. Seems like an easy contemporary to get through quickly.
Normal People – Sally Rooney

At school Connell and Marianne pretend not to know each other. He's popular and well-adjusted, star of the school soccer team while she is lonely, proud, and intensely private. But when Connell comes to pick his mother up from her housekeeping job at Marianne's house, a strange and indelible connection grows between the two teenagers—one they are determined to conceal.

A year later, they're both studying at Trinity College in Dublin. Marianne has found her feet in a new social world while Connell hangs at the sidelines, shy and uncertain. Throughout their years in college, Marianne and Connell circle one another, straying toward other people and possibilities but always magnetically, irresistibly drawn back together. Then, as she veers into self-destruction and he begins to search for meaning elsewhere, each must confront how far they are willing to go to save the other.

Sally Rooney brings her brilliant psychological acuity and perfectly spare prose to a story that explores the subtleties of class, the electricity of first love, and the complex entanglements of family and friendship.
Chapter Page Count: 8
My Thoughts:
I'm not really sure I like the writing style? The language is a bit over my head too. Maybe it was just me, but I am not sure about this one. It's the shortest in the bunch, and I am really interested in it, but that first bit was a little much to me. I found it hard to follow their conversation. I don't know.
With the Fire on High – Katherine Acevedo

With her daughter to care for and her abuela to help support, high school senior Emoni Santiago has to make the tough decisions, and do what must be done. The one place she can let her responsibilities go is in the kitchen, where she adds a little something magical to everything she cooks, turning her food into straight-up goodness. Still, she knows she doesn't have enough time for her school's new culinary arts class, doesn't have the money for the class's trip to Spain — and shouldn't still be dreaming of someday working in a real kitchen. But even with all the rules she has for her life — and all the rules everyone expects her to play by — once Emoni starts cooking, her only real choice is to let her talent break free.

Chapter Page Count: 4
My Thoughts:
I love Elizabeth Acevedo's writing. There is just something about it that immediately draws you in and makes you want to keep turning the page. I will definitely be picking this one up very soon.
Again But Better – Christine Riccio

Shane has been doing college all wrong. Pre-med, stellar grades, and happy parents…sounds ideal—but Shane's made zero friends, goes home every weekend, and romance…what's that?

Her life has been dorm, dining hall, class, repeat. Time's a ticking, and she needs a change—there's nothing like moving to a new country to really mix things up. Shane signs up for a semester abroad in London. She's going to right all her college mistakes: make friends, pursue boys, and find adventure!

Easier said than done. She is soon faced with the complicated realities of living outside her bubble, and when self-doubt sneaks in, her new life starts to fall apart.

Shane comes to find that, with the right amount of courage and determination one can conquer anything. Throw in some fate and a touch of magic—the possibilities are endless.
Chapter Page Count: 3
My Thoughts:
This is interesting. Obviously I couldn't help myself and I started reading reviews for the book before I got my hands on it. And let me tell you, so far? They ain't saying too much good stuff. So when I finally did get my copy, and I started reading the first chapter, I felt those preconceived impressions radiating onto the page. I like the idea of the book? But the opening scene I was already annoyed with the throw away characters and how they treated a perfect stranger (the main character). It felt almost unrealistic. I don't know if that's the negative reviews I read talking, but I am not too sure about this one at this time. Maybe after the hype dies down and I can forget about the reviews I'll pick it up.
Rayne & Delilah's Midnight Matinee – Jeff Zentner

Every Friday night, best friends Delia and Josie become Rayne Ravenscroft and Delilah Darkwood, hosts of the campy creature feature show Midnite Matinee on the local cable station TV Six.

But with the end of senior year quickly approaching, the girls face tough decisions about their futures. Josie has been dreading graduation, as she tries to decide whether to leave for a big university and chase her dream career in mainstream TV. And Lawson, one of the show's guest performers, a talented MMA fighter with weaknesses for pancakes, fantasy novels, and Josie, is making her tough decision even harder.

Scary movies are the last connection Delia has to her dad, who abandoned the family years ago. If Midnite Matinee becomes a hit, maybe he'll see it and want to be a part of her life again. And maybe Josie will stay with the show instead of leaving her behind, too.

As the tug-of-war between growing up and growing apart tests the bonds of their friendship, Josie and Delia start to realize that an uncertain future can be both monstrous…and momentous.
Chapter Page Count: 4
My Thoughts:
This was one of those books that don't have chapters but different perspectives. Since each perspective was only 2 pages, I read the first one of each character. They read like diary entries thus far. One talked about dreams, and the other a combo of things. They both have something interesting to say at least. I would place it high in the running to continue.
Hot Dog Girl – Jennifer Dugan

Elouise (Lou) Parker is determined to have the absolute best, most impossibly epic summer of her life. There are just a few things standing in her way:

* She's landed a job at Magic Castle Playland . . . as a giant dancing hot dog.
* Her crush, the dreamy Diving Pirate Nick, already has a girlfriend, who is literally the Princess of the park. But Lou's never liked anyone, guy or otherwise, this much before, and now she wants a chance at her own happily ever after.
* Her best friend, Seeley, the carousel operator, who's always been up for anything, suddenly isn't when it comes to Lou's quest to set her up with the perfect girl or Lou's scheme to get close to Nick.
* And it turns out that this will be their last summer at Magic Castle Playland–ever–unless she can find a way to stop it from closing.

Jennifer Dugan's sparkling debut coming-of-age queer romance stars a princess, a pirate, a hot dog, and a carousel operator who find love–and themselves–in unexpected people and unforgettable places.
Chapter Page Count: 3
My Thoughts:
Girl YAAASSSS! I really love everything about this book. I almost just said "screw the try a chapter" and read this right away. I keep looking at it, flipping through it. Needless to say, I cannot wait to finally read this for real. I mean, a vegetarian is spending the summer dressed up in a hot dog suit for the second summer in a row… I was only a couple pages in and I was already down for this story.
Conclusion
First off, this was tough because many of these books had (one) page long "first chapters" and I had to make exceptions, aka read a bit more than the first chapter, in order to get some kind of information to evaluate.
Some of these books really surprised me though. I found myself really drawn to some that I didn't think I would be, and actually perfectly fine setting aside others that I was convinced I would have to read immediately. With so many new books entering my shelves this month, I found this the best way to narrow down my TBR for May to a realistic list.
I think that at this time, I am immediately going to pick up
Hot Dog Girl by Jennifer Dugan
However, I will still be adding a few of these to my May TBR to be picked up right after. Keep scrolling for my full May TBR:
New Releases/Pre-Orders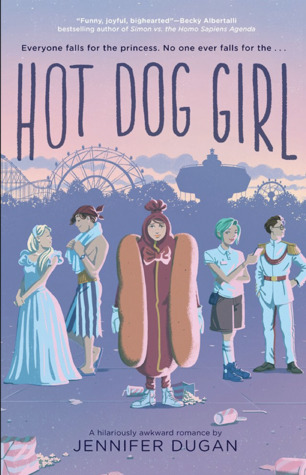 Backlist Book/Continue Series
BOTM Club Book
---
What do you guys think? Have you read any of these?