Graphic novels are having a nice little run right now, being the go to type of story that children tend to pick up. Like audiobooks, they have also sparked debate as to their legitimacy as "real books." I can tell you that as a children's librarian, I have talked many parents off the ledge, explaining to them why graphic novels are in fact "real books" and that the added element of pictures actually makes it a bit more challenging to read than a typical novel. I digress. Regardless, I feel as though graphic novels are one of those types of books that people are always looking for recommendations for (myself included) so I wanted to share with you some of my favorites.
Before I get into the list though, I do want to clarify something. Do you know the difference between graphic novels and comic books? Is there a difference? The answer is Y E S. Graphic novels are full length stories bound in one book. They are made much like novels in that they come in hard cover or paperback, and are held together by sticky glue or stitching. They (also like other novels) are complex in plot and characters, and most of the time find their resolution before the end of the book. Comic books on the other hand are often produced in periodicals or issues, meaning they can be short snapshots to a larger story. They are mostly made out of some kind of paper material, and are stapled together in the middle. Many comic books don't run more than 30 or so pages, and often contain many MANY issues within a series. They may tell one story, but it is over several issues. So while they both utilize a paneled style of art and storytelling, they are still fairly different.
Anywho, let's actually get into what you came here for!
My Top Ten Graphic Novel Recommendations
For the purposes of this post, I am considering series as one (1) entry due to the fact that I an speaking about the series as a whole, not an individual book. Also, the books are not in any particular order.
1. the Awkward series by Svetlana Chmakova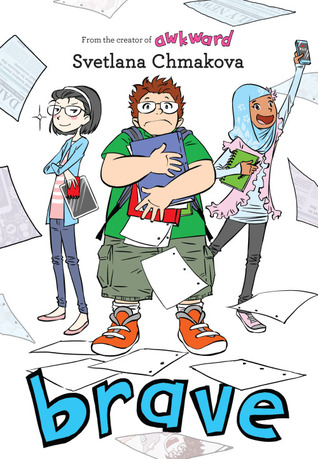 I just. OMG. I LOVE this series. Each book just gets cuter and cuter and I just eat it all up. Each book in the series follows a different student, but they all attend the same middle school so side characters overlap. There is just such diversity in the characters and their classmates, issues the children face and lessons learned that I think you really could hand these to most kids. I love the art style too. It is much more muted, simplistic illustration with pastel-y colors as opposed to bright, bold ones. I love everything about this series honestly. I have loved all the characters and would absolutely recommend these books to fans of Raina Telgemeier (people looking for a more realistic graphic novel story).
2. Roller Girl
Ya'll, this book was the bomb. It is about a young girl finding her own way, and not being afraid to do something for herself, even if it means that it isn't the same as her best friend. This book brought light to a lesser known sport that truthfully, I have found incredibly interesting. If you end up liking this you MUST watch Whip It; I feel like those two go hand in hand.
3. All's Faire in Middle School
 I didn't think I would like this as much as I did! Middle schooler Impy has been home-schooled her whole life, mostly because of her family's involvement and participation in annual Renaissance fairs. She is tackling (public) middle school for the very first time, all while trying to prove to her parents that she is ready for a bigger role in the fair. This book made me cry thinking about feeling the same way in middle school, and just wanting to fit in, but having your own interests and preferences.
Victoria Jamieson
Both these books by Victoria Jamieson are wonderful stand-alone stories. They are very similar stylistically to Raina Telgemeier but if I am being honest, I think they are much, MUCH better story-wise. Unlike Chmakova, Jamieson uses bright bold colors to fill her panels, though LIKE Chmakova, they are realistic storylines that kids can relate to.  The thing I love about Jamieson's books (more than Telgemeier's) is that they have a backdrop of uncommon interests. You get to learn about roller derby and Renaissance fairs, and that to me sets her miles apart. While these are relatable characters and situations, the characters are interested in things that you may not have been aware of, or know much about. I really like that about these books.
4. Key Kiddo by Jarrett Krosoczka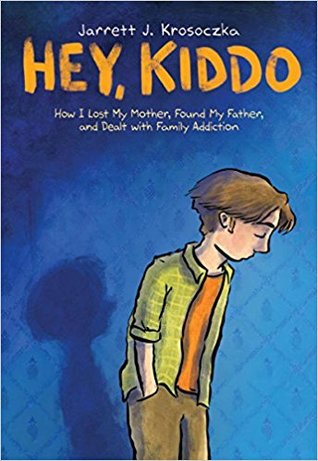 This is a graphic memoir about a well known author and illustrator, Jarrett Krosoczka and his troubled childhood. Jarrett's mother was addicted to heroin, and ultimately ends up being raised by his much older grandparents. He doesn't know his father (yet) and really just struggles to deal with the life in front of him. Luckily, Jarrett finds art, and while his grandparents don't understand, they are supportive in his pursuit of it. I read this for a mock Printz discussion through my library system and even got to present it to the group. It will always hold a special place in my heart but it was certainly not light. Jarrett uses a limited palette and border-less speech bubbles. The images are not the most appealing art style but they convey the grittiness of the situation. It really is a great read.
5. Check Please: #Hockey by Ngozi Ukazu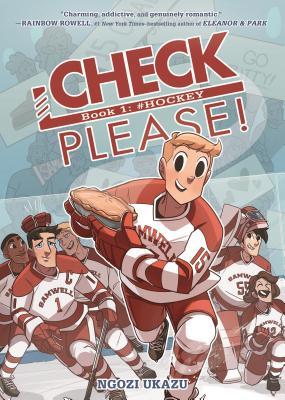 Let me tell you about this story! Let me tell you how stinking cute this book is! I adore this story, these characters, this art style, just EVERYTHING about it. Check Please is a compilation of a widely popular web comic and I am so grateful. It follows the story of baker and avid vloger Bitty who is a freshman in college and on the men's hockey team. He had never had to get "checked" in the co-ed league in Georgia, so this was a huge deal once he got to practice. That and the fact that the captain was a gorgeous broody type. It was adorable, heartwarming and downright hilarious. I have a very specific voice in mind for Bitty, mostly due to the fact that his personality just jumps right off the page. I absolutely cannot wait for the second volume to come out.
6. Cardboard Kingdom compiled by Chad Sell
I would LOVE to see more stories like this!  Cardboard Kingdom is several stories featuring an entire neighborhood of kids who one summer create an epic imaginary world where they all have their own alter egos and adventures. Characters from each of the other chapters are featured throughout the book, allowing it to flow well and feel complete. They also tackle some heavy issues with a light hand, which was done tastefully. I thought this whole concept was super unique and would love to see more stories like it. I loved that you got several totally different stories all wrapped up into the same book. It felt like you were binging an entire series in just one sitting.
7. Speak the Graphic Novel by Laurie Halse Anderson
Artist: Emily Carroll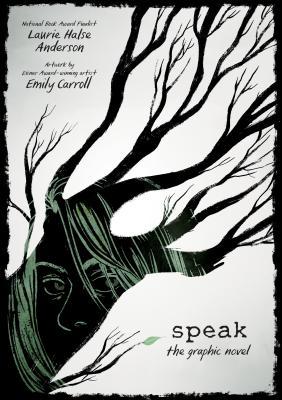 I never read the popular book as a kid so I cannot speak on how it is as an adaption, but something about this story just lends itself so well to the imagery created by Carroll. Speak is about a teenager who gets raped at a summer party, but doesn't tell anyone. She ends up calling the cops and getting the party busted so her classmates dislike her quite a lot. The internal struggles of our main character, her triggers and difficulty both coping with what happened, keeping it to herself, and suffering in silence, are absolutely gut wrenching. And to see it all unfold in a visual way? This is one of the times where I would argue that the visual aspect of the story enhances it, and makes it that much more impactful. Whether you have read Speak or not, this is a tragic graphic novel you won't want to miss.
8. Click & Camp by Kayla Miller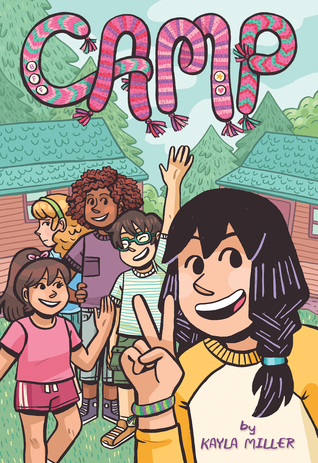 I honestly just feel like these books were so well done. They represented their plots super well. The main character is relatable and interesting; I love that Olive is outgoing and friendly, traits I feel are rarely explored in stories right now. I don't know what it is about realistic (fiction) graphic novels but I just devour them. These in particular are the first ones though since the Awkward series that I am actively looking out for. The illustrations are bright and colorful (giving you a 'Sisters' like vibe) which make it easy to want to pick up. Olive (the MC) is likable, and struggles with realistic issues, but not your recently typical ones like social anxiety, bullying, etc. In Click, she grapples with not being asked to be in a skit for the upcoming talent show. Olive is friends with everyone! It isn't until  everyone starts pairing off, that Olive realizes this could be a bad thing, or could it? In Camp, Olive and her friend go to a sleepaway camp for the summer. Olive, the outgoing adventurous type immediately makes friends where Willow does not. She wants Olive all to herself and gets offended when Olive wants to do other activities and talk to all the campers.
9. Sunny Side Up by Jennifer L. Holm
Artists: Matthew Holm, Lark Pien (colorist)
 Another one for Telgemeier fans, Sunny Side Up features similar art styles (bold bright colors) and a realistic storyline. Sunny has been shipped off to Florida to visit with her grandfather for the summer. She makes the best of her retirement home vacation by meeting another kid named Buzz. He shares his love for comic books with her, and soon the pair are partaking in all kinds of adventures. But something keeps bothering Sunny. Why is she here in the first place? Fun and light until it's not, Sunny Side Up is a really great little story that has some serious summertime vibes.
10. Nimona by Noelle Stevenson
This book was so much fun. Humorous and dark, Nimona is a spin on the typical Super Hero dynamic. It follows the main character, a villain named Lord Ballister Blackheart. He is your typical villain, complete with arch-nemesis/ex best friend Sir Ambrosius Goldenloin. The thing about Blackheart is that he didn't choose the villain life, the villain life chose him. And for that reason (perhaps?) he is reluctant to cause much damage or injure, maim or kill anyone who gets in the way of his "evil" plans. In walks Nimona, a shape-shifting badass who admires and wants to work with Blackheart. Unfortunately, she is a bit more brash in a "punch now, ask later" kind of way. Blackheart is constantly reining her in, and reminding her NOT to kill anyone. Things get hairy, as they do, when the supposedly "good" league that Goldenloin comes from has been found out for harvesting illegal and dangerous things behind the backs of the people they swore to protect. Nimona's powers prove to be more than anyone could have possibly imagined, and lead to a particularly vicious battle that puts everyone on the side of stopping her. It reminded me a lot of Dr. Horrible where the story follows the villain which society deems the wrong side, but ultimately they end up being the "good" guys that you just fall for. Would recommend for just about anyone.
And that's my list! Have you read any of these? What did you think? What are some of YOUR favorite graphic novels? Let's chat!