For one reason or another, summer feels like it should be the season when everything comes out. People seem to have infinitely more time on their hands, and more money to spend on things of personal enjoyment. Growing up, I always assumed people read more in the summertime too, especially students because they have that break from responsibility and the library's Summer Reading Clubs tipped the scale in their favor. But as I am realizing now that I am further into the community, that is not the case. That doesn't mean though that books don't come out in the summertime. Plenty of things still do, just not in the volume you would expect, or at least that I would. Here are some that sparked a bit of interest this past summer.
Let's start with the obvious! Sorcery of Thorns is the sophomore novel by Margaret Rogerson. Her debut, An Enchantment of Ravens had a number of very mixed reviews but that doesn't seem to be the case for this one. Described as a YA fantasy for book lovers, it mixes magic and libraries and wraps it up into a stunning cover. Since I am not typically into fantasy stories, this wasn't one that originally interested me. However, the rave reviews up and down the blogosphere have really changed my mind about it. I feel like it is one of those books I have to take a chance on, you know? Hopefully I can get my hands on a copy in 2020 and give it a shot.
Read
Own
Oh boy. This had all the boxes checked for an adorably cute romance! I was so excited, especially anything with Tom Hanks name attached to it is sure to be gold, right? Not so much for me. I got this from the library and immediately started it. I got about three chapters in before I had to put it down and do a little research. I started looking up reviews for it because I just had to know if I was the only person in the world not getting the charm this book was trying to give off. But after talking with a few trusted bloggers, I decided this author's writing style, and these characters just weren't for me, and gave up. It still pains me to say it, but I don't think I will be seeking out this book any time soon.
Read
Own
I may not be super into the romance genre, BUT when this cover popped up on my newsfeed, and I heard that it takes place on Long Island (that ISN'T the Hamptons) I was very very interested. Not to mention that it featured that oh so cute and in demand illustrated cover that seemed to be so popular this year (and reminded me a lot of my new fav. book Red White and Royal Blue), I just happened to type it into the search bar at the library and discover that it was on the shelf. I took it home and I am pretty sure I read it in two-three days. It was just so super cute, cheesy and exactly what I went in expecting. Well known "good girl" goofball, kid sister of a well respected family enters a fake dating situation with the town's famous ex-MLB "bad boy" player who has returned home after an injury. Baseball, fake dating, family history, and a bad boy that no one really understands? Yes please. I actually can't wait for the next book in this companion series (cleverly named Hot and Hammered. I am dead) which comes out next year and stars a couple we already met. Tessa Bailey is now on my radar. (I may eventually want to purchase this and Red White and Royal Blue in the future).
Read
Own
Other Noteworthy Books in June
I have to say, since Final Girls (his first novel under this pseudonym) each book has gotten better and better. I have defintaley been interested in all three of his book premises, but Final Girls was such a big let down that I wasn't sure I would continue reading his books. I am glad I did. Lock Every Door is the 3rd book he has written, and it is the best one yet. Set in New York City, this famous building (the Bartholomew) is the star of this story. Jules is a down on her luck MC who takes an apartment sitting job in one of the most famously mysterious, and private, buildings in New York. The job comes with a slew of odd rules, but the pay in unbelievable. However, during her stay, Jules starts to discover some concerning things about the building and it's residents. Her only friend goes missing and now Jules is sure something is up. This book actually creeped me out but in the most unputdownable way possible. I loved it. It was well done, and now (like clockwork) I just found out he is releasing another new book in 2020 that sounds just as creepy. I am a fan mister Sager, I am a fan.
Read
Own
I saw this on the shelf at the library one day and was drawn to it because of the purple cover. I have never read Nora Roberts, but this one gave me some OG Nicholas Sparks-ish vibes and I think I might be interested. I do love me a small town ghost story. I don't really have anything else to say about this other than it has been on my TBR since I saw it at the library, and I still want to read it so, that's saying something at least to me.
Read
Own
Other Noteworthy Books in July
This book has been EVERYWHERE since it's release. I LOVE the cover, and the plot sounds super interesting, though I am not really familiar with the 12 Dancing Princesses story. I am also not super good at horror-type books but Mandy said it was really atmospheric (and not THAT scary) so I am still really really thinking about picking this one up. It is an option on BOTM but I might get it somewhere else because I wouldn't want to have the BOTM tab in the corner (plus I think Owl Crate has an exclusive version of this cover that enhances the water color and it is just gorgeous).
Read
Own
This is another romance that I got off of Chelsea from Youtube. I have never read KA Tucker, but with my successful outing with romance books this year, I was very encouraged to pick this one up, even if I don't get to it right away. It is about a second chance romance, something while I never have sought out, might be a new auto-interest trope for me. Piper is a successful woman in her own right, but must continue to prove her worth at a male-dominated job, which includes looking at her ex-fiance every day. Then she runs into the hot new security guard in her building which happens to be the first love of her life. I love the idea of a "doomed from the start" romance between two people who "shouldn't be together" because I always felt like I could relate to that a little bit. I think that is also why I haven't picked this up yet. While I want to read it and am super interested in it, I still feel like I need to be in the right mindset and I just am not right now.
Read
Own
Other Noteworthy Books in August
We're more than halfway through the new releases of 2019! I hope you have been enjoying this journey with me. It is something I have been working really hard on the last few weeks.
I know personally I start most years with a determination to focus on physical books I already own (the backlist), but every single year, new releases come out of nowhere and completely take my attention off my reading goals. It actually reminds me of that meme with the guy walking with his girlfriend, but looking back at a girl that walked by..
this one: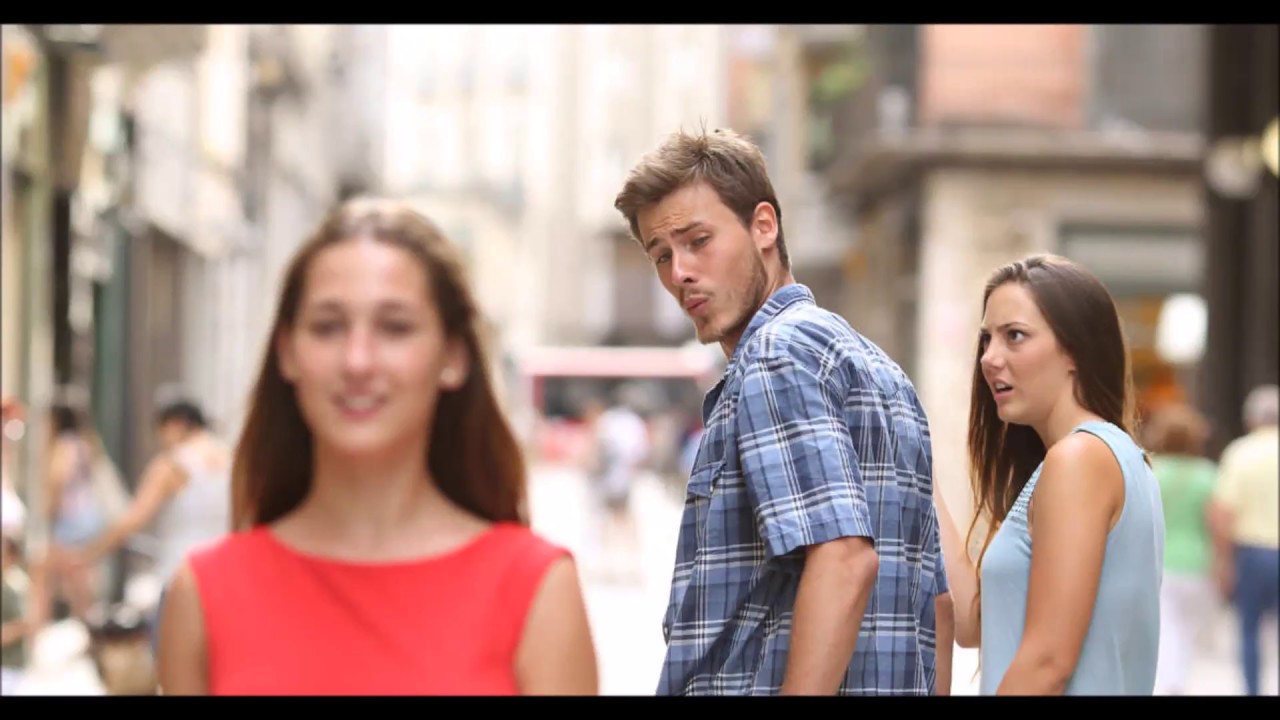 Anyway the girl in red is new releases, I'm the dude, and my backlist titles are the girl in blue. Anyone else feel that way? Are any of the books from this summer still on your TBR? Any that you suggest I HAVE to read in 2020?