Once upon a more simpler time, books all but sold themselves with their beautiful (or hideous!) cover art and maybe a PR campaign that included a magazine write up and some posters. I'm sure a lot more thought and effort went into it than that, but it definitely didn't feel as flashy when I was growing up in the early 2000s. Instead, I got all my book recommendations from the teen librarian, which was a new position at the library by the time I was in middle school. Now, books and catered recommendations have a far larger reach due mostly in part to social media.
Social Media's Influence
At the height of Youtube, a small community of readers set out to create reviews, tags and other book related content on the internet. This was 2010, and the community was pretty small. Over the corresponding years, it grew exponentially, so much so that book content creators were seeing subscription numbers that cleared 100k. At this point, even "smaller" channels could see some opportunities to collaborate with publishers on content. Publishers would send out ARCs or advanced reader copies, of new and upcoming books so that creators can talk about them on their channel, reaching 100s of thousands of targeted buyers.
Now, multiple social media platforms, including those with heavy visual emphasis, house pieces of that same book community combined with new (and maybe more hip) viewers. This emphasis on visuals is what pushes content creators to be more creative with their advertising. On Booktube (the book community on Youtube), the same types of videos get made. That's not to say that creators don't try to come up with new ideas! But in an article about the beginning and future of Booktube, written in 2019, creators worry that they will run out of ideas, and often find the creativity of making content to be stunted a little.
On Instagram (or for our sake, Bookstagram), the entire point of the platform is to take and publish photos. This move from videos to still images helped flex the creativity of creators, by taking the focus off of what they say, and relying heavily on the book's outer beauty. At some point though, it became less about the book itself, and more about the aesthetic, or the look of the image. What kinds of items can be used to make a more interesting and beautiful picture? There is a real artistry to Bookstagram, one I personally don't have at all, but it allows for more advertising opportunities for publishers.
The Stuff of It
Who doesn't like STUFF? We as a society are actually very materialistic so it isn't much of a surprise that publishers saw an opportunity to entice amatuer advertisers (social media influencers) and consumers into buying their book by creating "merch" to go with that particular book or series. This is especially apparent with the rise of subscription box services.
I can guarantee that if you don't receive at least one yourself, you have certainly heard of (or even watched an unboxing of) a book subscription box. In reality though, the book community isn't the only one in on this trend, though it may have been the first ones to do it. You can get a subscription box for just about anything at this point in time: makeup, vitamins, food/groceries, dog treats/toys and more! Though it has only seemed to have taken up in the last decade or so, the subscription box business model has been around for much much longer than that (Robins, 2019). Believe it or not, Book of the Month (yes, THAT little blue box virtually all Booktube creators feature once a month) was developed as a service, and started sending books to their subscribers in 1926! "Instead of depending on customers to open up a catalog under their own volition and order a new item regularly, [you] could just charge them a monthly fee, send them some random book they might not even want, and depend on them to forget to cancel their subscription or put it off for an extra month because maybe the next delivery wouldn't suck as much" (Robins, 2019). This was the main idea behind Book of the Month back in 1926, and is the foundation for the big business we see today. Although BOTM has changed many of their services/policies since their start, it was still a revolutionary and unique service at the time.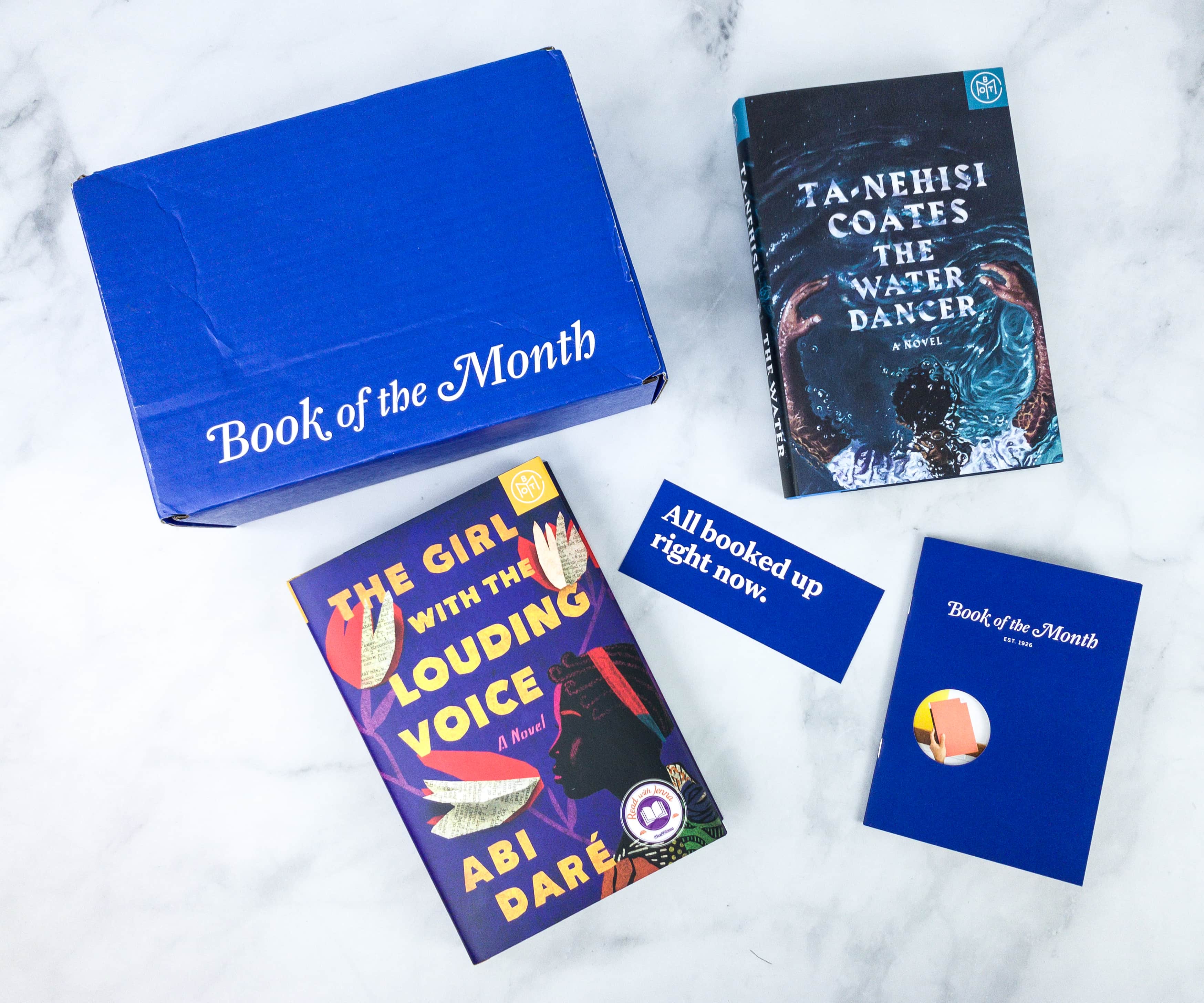 I don't know about any of you, but I certainly remember getting Avion, LL Bean and other catalog based companies sending their product catalog each season but the difference with that, is that you would have to place an order yourself, picking out specific items, to receive any products. This model (BOTM) charged you monthly and they got to send you whatever they wanted. Sound familiar? A lot of subscription boxes nowadays find that allowing their subscribers the ability to select their own products benefits their overall selling point. They may cater the choices, and only allow for a specific number (five pre-selected books or meals or whatever) to choose from, but it gives you the illusion of having a choice in the selection where you might not have had in the past or with other boxes.
Speaking of other boxes, let's get back to book boxes specifically. We have already mentioned Book of the Month which really kicked off the subscription box business model. But they changed their original model to allow subscribers to select (from a choice of five pre-selected books) their own book for the month. Since the rise of the subscription box though, MANY other book related boxes have been developed and some remain in the industry as brands that people recognize. Boxes like Owl Crate and Fairy Loot are among the favorites and most recognizable, both of which had booths at Book Expo in NYC all three years that I attended. Their model however shifts from BOTM in that they select the book that everyone subscribed receives (though it is often an exclusive edition with new cover art and/or an author signature). This represents the original BOTM model in 1926. Along with their monthly pick though, boxes like Fairy Loot and Owl Crate also include a plethora of "stuff" related to various fandoms in the book universe, and now, just specific books in general. This inclusion has encouraged the development of hundreds of thousands of little specialty shops to collaborate with the boxes on exclusive and specific products. "Stuff" ranging from soaps, candles, notepads, tumblers, mugs, tarot cards and pillow cases, plus really anything else you can think of. These items, though fairly typical, feature fan art, quotes or themed decorations that match the theme of the box, often depicting a popular book or book series. Do you get to select which fandoms you would like to represent? Nope. You are just sent a bunch of stuff in the hopes that you like at least one of the books depicted on the merch. Maybe you pass the rest of it on, or in more realistic circumstances, you use those items to create a really cool Instagram post surrounding a book you may not have even read yet!
I understand the draw for items like soap, candles and similar types of things because as long as you like the scent, it is still usable without having to be a fan of the book it is "made" for. But having an entire cabinet filled with mugs that feature art for books you have no interest in or haven't read seems to be a bit excessive, at least for me, which is why I never subscribed to boxes like this. It's hard to draw a line though. Personally, I am always really impressed with the unique items but for the most part, those types of boxes send the same kind of materials that companies order in bulk with the purpose of handing out to anyone just to get their name in someone's pocket. Don't get me wrong! I respect the hustle, and honestly these creators are ridiculously talented with the art they create for these fandoms, but because books themselves are so niche, it's hard to appeal to the masses when creating "merch" for a box like this. Most of the time, subscribers end up with drawers filled with "junk" and that hurts my little heart. However the case may be, boxes like this are still popular and for some, the biggest draw is the "stuff" aspect of it. At the end of the day, these items are exclusively created for these boxes, in most cases you can't get them anywhere else other than that box, and so it makes them a bit more desirable.
Dawn of the Status of Merch
So how and why does this work? "If you received surprise shipments of Beautiful World merchandise and posted a picture of it, you have implicated yourself as an advertising device by generating aspiration in others. We are in the "era of status merch," as GQ described it" (Pockroos, 2021). Publishers see this draw to "stuff" from subscription boxes and have taken it a step farther by creating their own curated PR boxes for influencers that includes themed exclusive items to pair with their book. Because these PR boxes are exclusive, and limited in quantity, it becomes a "status symbol" to receive, which in turn creates buzz around that specific book. "How does status merch work, beyond creating demand through scarcity? And why did publishers decide slapping a book's cover design onto vehicles and clothing items was the right way to advertise forthcoming books?" (Pockros, 2021). Well according to the article "When Did the Book Become the Brand?," "Merchandise enables people to create engaging content in a way a book cover can't on its own." Meaning that when an influencer posts a photo of the exclusive merch online, it puts the book on the radar of the consumers. Personally? That doesn't make sense to me. I will remember a book cover over a shoe designed to match a book cover, but that could just be me. But according to the same article, book bloggers/influencers feel like merchandise is more necessary now than before because people need something to remind them of a book.  And on platforms like Instagram and Tiktok, merch helps certain books stand out in a sea of other titles. Our attention span is much much shorter now, so taking in many little bursts of information, specific titles can be lost throughout your viewing / scrolling time. In order to help your book stand out among all the others that are featured in these short little bursts, bucket hats, shoes, and other exclusive items are created and featured with it so that they stick in the brain of the consumer better. 
So in conclusion, I guess we can expect to see more PR campaigns for books that include exclusive merchandise going forward.
What do you think about all this "stuff?" Do you personally find that "merch" helps you remember a book, or even that it makes you want to pick one up? Do you subscribe to boxes like Fairy Loot and Owl Crate for the exclusive "stuff" included?  Tell me your thoughts!
References
Ellis, Danika. "The Past, Present, and Future of Booktube, According to Booktubers." Book Riot, 26 May 2021, https://bookriot.com/booktube-according-to-booktubers/
Pockros, Alana. "When Did the Book Become a Brand?" Eye on Design, 13 Sept. 2021, https://eyeondesign.aiga.org/when-did-the-book-become-a-brand/?utm_source=Sailthru&utm_medium=email&utm_campaign=Check+Your+Shelf+092421&utm_term=BookRiot_CheckYourShelf_DormantSuppress.
Pullmann, Erin. "The Best Monthly Book Subscription Boxes-2021 Reader's Choice." My Subscription Addiction, 2 Mar. 2021, https://www.mysubscriptionaddiction.com/best-subscription-boxes/best-book-boxes
Robins, Becki. "The Untold Truth of Subscription Boxes." Grunge, 10 Jan. 2019, https://www.grunge.com/142608/the-untold-truth-of-subscription-boxes/
Images
"Beautiful Deceptions." Fairy Loot, 11, Oct. 2018, https://www.fairyloot.com/blog/2018/10/11/beautiful-deceptions/
"Bookstagram Props to Use in the Winter." Julie Anna's Books, 7 Feb. 2021, http://www.sincerelyjulieanna.com/bookstagram-props-to-use-in-the-winter/.
"Book of the Month February 2020 Subscription Box Review + Coupon." Hello Subscription, 18 Feb. 2020, https://hellosubscription.com/2020/02/book-of-the-month-february-2020-subscription-box-review-coupon/.
"When Did the Book Become a Brand?" Eye on Design, 13 Sept. 2021, https://eyeondesign.aiga.org/when-did-the-book-become-a-brand/?utm_source=Sailthru&utm_medium=email&utm_campaign=Check+Your+Shelf+092421&utm_term=BookRiot_CheckYourShelf_DormantSuppress.