Jenny Han (2014)
What if all the crushes you ever had found out how you felt about them… all at once? 
Sixteen-year-old Lara Jean Song keeps her love letters in a hatbox her mother gave her. They aren't love letters that anyone else wrote for her; these are ones she's written. One for every boy she's ever loved—five in all. When she writes, she pours out her heart and soul and says all the things she would never say in real life, because her letters are for her eyes only. Until the day her secret letters are mailed, and suddenly, Lara Jean's love life goes from imaginary to out of control.
(via Goodreads)
Oh my good golly gosh. I flew threw this book. I was made aware of it by the various book tags that have been going around since I joined the book blogging community in October. It was always highly regarded and truthfully, I needed a good gooey book (series) to read right now, and this did not disappoint. 
I honestly had (mostly) full intentions of keeping with my schedule- which would mean I read an adult fiction after completing Han's book- however, that is NOT what is going to happen. I was so into this book (and I will talk about the cliffhanger in a minute) that I immediately put the next (and last) two books in the series on my holds list at the library, while simultaneously checking out the ebook versions (just in case the physical books do not come in fast enough). Luckily for me, they were both available at the moment I needed them and I was able to start P.S. I Still Love You within minutes of finishing To All the Boys I've Loved Before.
Let me start by saying how much I really do love Lara Jean. I can relate to her hopeless romantic expectations and sometimes exaggerations. I think that she is a perfectly adorable teenager and it was easy for me to continue to root for her throughout the book. That being said, Kitty would annoy me to no end if she were my sister, as would Margot, so I am glad the series (thus far) focuses on Lara Jean and not either of them instead. 
I like the little bursts of Korean/ethnic references. I think that while it may not appear to obviously add to the main plot of the story, it still makes things interesting, and gives the characters a little more texture. I think Lara Jean's dad is adorable, and I am secretly pulling for him to find himself something more than just his job and girls to keep him going. 
While I like Josh at the beginning, I have to be honest and say that I really liked Peter throughout the entire book, and was really hoping for a good ending between Lara Jean and him. He comes off as such a guy's guy but truthfully he reminds me of my first boyfriend. Him and I are no longer together, and most likely never will be, but I can say with confidence that he has the biggest heart, and that he doesn't really ever let anyone see it. I saw that same personality in Peter, how he was with Kitty, how he paid attention to some details with Lara Jean, it reminded me a lot of my ex-boyfriend, and I think that is why ultimately he was the one I wanted her to end up with. 
I think that while at some parts the story dragged a bit, for the most part, it was well paced. I also liked that some chapters were super short (which made reading "just one more" so much easier). But that cliffhanger? ARE YOU KIDDING ME?!?!? Without giving too much away, I am just really lucky that I am reading these books after they have all been published, and don't have to wait for MAYBE another one. The fact that I was able to check out and start reading the second book within seconds of finishing the first was a game changer. I will not be making that same mistake with the third book, as I have checked it out alongside the second. 
Um but wait guys, I just found out that they are in the process of making a To All the Boys I've Loved Before movie!!! I can't even breathe, and it comes out in 2018?!? I hope it is sooner rather than later, because if I have to wait until December for this movie I might cry. Now to just find someone to go with me…
Can I just… I'll just leave these here…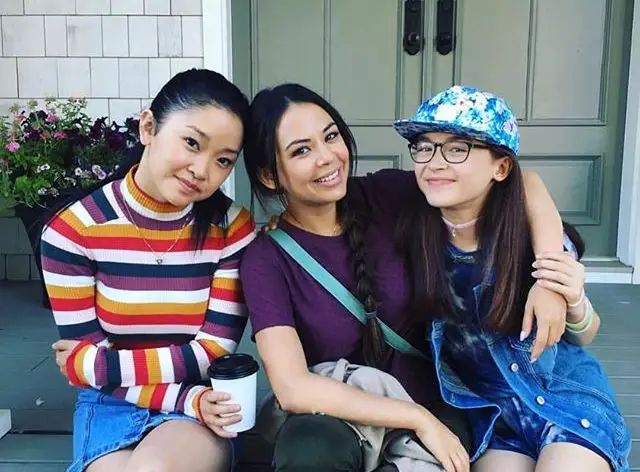 That being said, I am FLYING through this series at lightening speed! I just finished P.S. I Still Love You this afternoon, and will most likely start Love Always Lara Jean tonight. so instead of reading, stopping to write, and then reading again, I am just going to talk about each book all in the same post (so expect a longer one) and wait to publish this until I have finished all three. If you are reading this, that means that has happened!
Alright, moving on to book two…
Jenny Han (2015)
Lara Jean didn't expect to really fall for Peter.
She and Peter were just pretending. Except suddenly they weren't. Now Lara Jean is more confused than ever.
When another boy from her past returns to her life, Lara Jean's feelings for him return too. Can a girl be in love with two boys at once?
In this charming and heartfelt sequel to the New York Times bestseller To All the Boys I've Loved Before, we see first love through the eyes of the unforgettable Lara Jean. Love is never easy, but maybe that's part of what makes it so amazing.
(via Goodreads)
I literally read this in a day. Like I said, I was able to borrow the ebook from my library instantly after finishing To All the Boys, and obviously started immediately because, hello? How do you not after that cliffhanger?
Anyway, so I don't know about you, but this one went a lot faster for me than the first. I am not sure if it was because the plot was a bit less complicated than the first or what, but I actually didn't believe that I finished when I did. I literally double checked the ebook to make sure I didn't borrow a preview copy of the book by accident (honestly I will probably still not be convinced until I look at the physical book when it FINALLY comes in hopefully sometime this week). 
Let's talk about Peter and Gen. It was obvious that Peter cared for Lara Jean, and worked hard to keep her happy (and meet her expectations) but his whole dynamic with Genevieve is hard to swallow, even for me. I don't think that Lara Jean was being difficult and truthfully, putting myself in the same situation, I don't think I would have let it go on for as long as Lara Jean did. It would have been a huge issue with me from the start, and would have ended up being a deal breaker down the line.
I LOVED John, regardless of the fact that I think Han tried too hard to make him irresistible and perfect. I mean he was the obvious choice wasn't he? Han made that almost too clear from the beginning, and yet… I don't want to ruin it for anyone, but Lara Jean's decisions were what I would have done at the end of the day (probably). John was smart and stupid good-looking by the sounds of it. It makes you seriously doubt some of the things he told Lara Jean about his experience with girls (or lack thereof). He definitely seems a better fit for Lara Jean, but the whole time I couldn't help but feel like Han recycled out Josh for John. They, to me, were interchangeable. Han makes an almost solid case for both boys, making them the obvious choice for Lara Jean. We know who she picks in the first book. Are you surprised then by the conclusion of the second? I don't think I was (maybe a little bit more surprised but not like OMG).
I liked that Lara Jean is coming a bit more out of her shell since dating Peter. I think it shows believable character development the way Han lays Lara Jean's character out in this installment. She is still true to who she is, but she is no longer afraid (per say) of living under Margot's thumb, or sticking to the "goodie two-shoes" persona.
Everybody loves a love triangle. Obviously that was the main draw of this book. Aside from that, I still find that To All the Boys I've Loved Before as the stronger book thus far. I liked the texture of the story, and how learning about all the characters added to it as well. What did you think?
and finally, book three…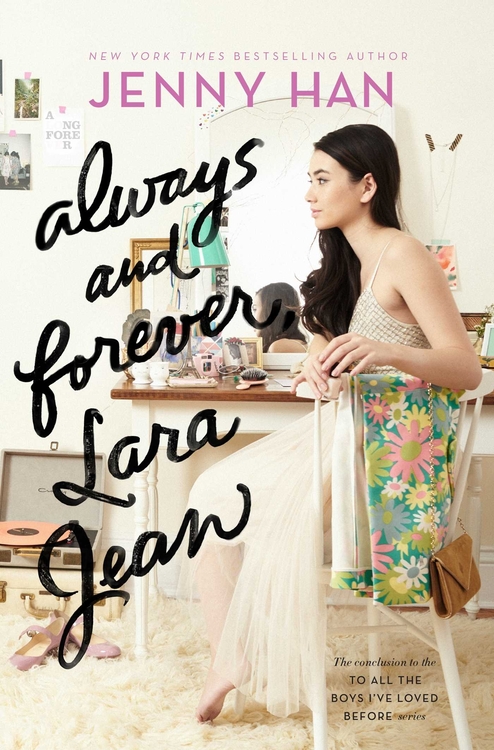 Jenny Han (2017)
Lara Jean is having the best senior year. And there's still so much to look forward to: a class trip to New York City, prom with her boyfriend Peter, Beach Week after graduation, and her dad's wedding to Ms. Rothschild. Then she'll be off to college with Peter, at a school close enough for her to come home and bake chocolate chip cookies on the weekends.
Life couldn't be more perfect!
At least, that's what Lara Jean thinks…until she gets some unexpected news.
Now the girl who dreads change must rethink all her plans—but when your heart and your head are saying two different things, which one should you listen to?
(via Goodreads)
It wasn't until setting this post up that I realized book three in this series came out THIS YEAR! That is a long two year gap between books, which, if I were reading the books as they came out, would have been torturous. As with TV shows, I still feel as though it is ultimately more worth it to wait until everything is out, and then binge it (but I am an impatient person so what do I really know?).
This really was an awesome senior year for Lara Jean! I have to say, it made me reflect on my own senior year of high school, which was also pretty great. I loved that Lara Jean stayed fairly true to herself throughout the series, and her big "ending" was not unlike what earlier Lara Jean would have ended with.
That being said though, this installment in the series, at least for me, was the least memorable one. In the moment of reading the actual story, it brought me back to my own senior year struggles (whether to go to college close to home or away, to leave with a boyfriend or without), so I could relate to her through a good portion of the story. However, after having a few days to digest the series as a whole, this one falls a little flat in comparison to the others. 
Jenny's writing and plot development were consistent throughout, but for me, by the midway point of this book, I was rushing to finish. I like that she left it fairly open ended, in order for fans to come to their own conclusions, but it definitely felt like the story ran out of gas by the end. 
I still think that by the end of the series, my favorite character is still Peter. He is just the sweetest boy, he treats Lara Jean well, and is considerate (way more than even Lara Jean gives him credit for). 
I kinda hate how much they pushed Lara Jean's dad's relationship with Trina. I understand that Jenny wanted to wrap all the characters up by the end, and she couldn't fast forward too far without missing a key part of Lara Jean's development, but it felt very rushed. Don't get me wrong, I was happy for them, but again, it didn't even have a chance to feel like a real part of the story because it happened so fast. 
All in all, I loved the series. It was one of the best, most interesting series I have read in a long time. I forgot how nice it was to actually read a series! I haven't done that since I myself left high school (or at least not too long after that) so it was refreshing to spend a little extra time time with such lovable characters.  It only makes me that much more excited for the movie versions to come out.
What do you guys think about the To All the Boys series? Which of the three was your favorite? Lets chat in the comments :]
 On Deck:
When Dimple Met Rishi by Sandhya Menon