New month, new Calendar Girls post! If you are unfamiliar with Calendar Girls events each month, check out their info page here.
The votes are in, and February's theme has been decided!:
Black History Month: Favorite Book by a Black Author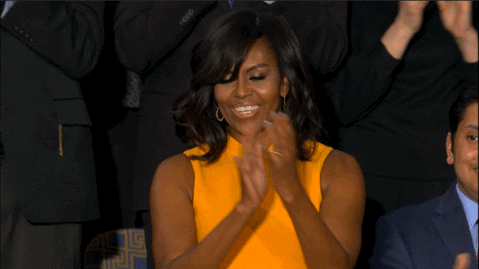 side note: I freaking adore Michelle Obama, like a lot.
---
Anyway… YES! This theme is going to take some very careful consideration. I have a LOT of runner ups so let's just get into it.
Runner Ups:
Children of Blood and Bone by Tomi Adeyemi
The Poet X by Elizabeth Acevedo
The Color Purple by Alice Walker
The Stars Beneath Our Feet by David Barclay Moore
---
And it is NO surprise that this is my winner:
Sixteen-year-old Starr Carter moves between two worlds: the poor neighborhood where she lives and the fancy suburban prep school she attends. The uneasy balance between these worlds is shattered when Starr witnesses the fatal shooting of her childhood best friend Khalil at the hands of a police officer. Khalil was unarmed.
Soon afterward, his death is a national headline. Some are calling him a thug, maybe even a drug dealer and a gangbanger. Protesters are taking to the streets in Khalil's name. Some cops and the local drug lord try to intimidate Starr and her family. What everyone wants to know is: what really went down that night? And the only person alive who can answer that is Starr.
But what Starr does—or does not—say could upend her community. It could also endanger her life.
The Hate U Give is a three-time winner of Goodreads Choice Awards (most recently voted 'Best of the Best 2018.'), the Coretta Scott King Award (best novel by an african american author for children), the Michael L. Printz Award (best novel for teens), the William C. Morris Award (best debut book for teens), as well as a number of other ones.
---
T.H.U.G L.I.F.E.- The Hate U Give Little Infants Fucks Everything.
I honestly cannot say enough about this book. I have so much and yet absolutely nothing to say, which is why it hasn't been reviewed on my blog. It was an absolutely life changing book. It is the first book in a long time that has had such an impact on me that I know I will never forget it. I still stand by the statement that EVERYONE should read this book. Like it should be required reading for EVERYONE in this country (and others) to read this story and really see what happens. For those living under a rock, it was also recently adapted into a movie, which in my opinion was done very well. It just recently (the movie) came out on DVD and Blu Ray so try to get your hands on it if you can.
Seriously, there was no other winner, no one even comes close to how much I loved this book. I CANNOT wait to see what else Angie Thomas has in store for us. Her newest book (not a sequel) On the Come Up is due to come out in just a few short weeks!
---
You can see both Katie's and Adrienne's posts below: